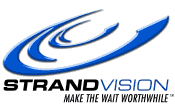 FOR IMMEDIATE RELEASE
MENOMONIE, Wis. - Jan. 18, 2010 - StrandVision LLC today introduced "Proof of Playback" capabilities that track the display time and frequency for any page, photo, video or database shown on StrandVision Digital Signage systems.
The free, user-selected feature tracks each page's cumulative display time and frequency on StrandVision Digital Signage networks, embedded digital signage displays on customers' Web sites, as well as on desktop and Point of Sale (POS) screensavers. "Proof of Playback" includes convenient reporting and data export capabilities for integration into spreadsheet or billing systems.
Facilitates Advertising
StrandVision's "Proof of Playback" is beneficial for customers that sell digital signage advertising or participate in cooperative marketing programs by enabling them to demonstrate contract compliance. It is also a great way to prove that certain legal and employee notices, such as insurance or healthcare announcements, are shown. Customers can also track public service announcements for community relations reports.
"Proof of Playback is another feature in a steady stream of enhancements that make StrandVision a leader in digital signage capabilities and convenience," commented Mike Strand, StrandVision founder and CEO. "Available as a check-off for each page on our administrator dashboard, a few clicks of a mouse give our customers instantaneous content tracking and it's just as easy to see the results."
Proof of Playback is available immediately at no charge for StrandVision Streaming Video, Gold and Platinum digital signage packages, as well as reseller and demonstration accounts.

About StrandVision
StrandVision LLC delivers low-cost, Web-based Software as a Service (SaaS) digital signage through a patent-pending approach that delivers content to subscribers' LCD and plasma displays, as well as computer screens and Web sites. StrandVision's service distributes text and graphics pages, including advertisements, video content, and national and local weather and news. It is ideal for medical and dental offices (patient education), banks, retailers and industrial distributors (video merchandising), employee break rooms (events and benefits), non-profit and religious organizations (member and supporter communications), and other applications.
StrandVision also offers PC-2-TV.net, a fully digital, high-definition (HD) personal computer-to-television adapter for use with digital signage and many other applications.
StrandVision Digital Signage services and PC-2-TV.net are available directly from StrandVision and through registered affiliates and system integrators (
http://www.strandvision.com/?digital_signage_installers
). Additional information about StrandVision is available at
http://www.strandvision.com
, by calling or emailing
sales
.
###
All trademarks are the property of their respective owners.
EDITORS: For further information:
Mike Strand
StrandVision Digital Signage
6595 South Shore Drive
Altoona, WI 54720-2386
715-235-SIGN (7446)
mjstrandweb