Share in the excitement of digital signage solutions with this electronic press kit from StrandVision. This media kit is designed to share digital signage information with a quick synopsis of recent electronic signage press activity and a summary of other aspects that may be needed about the company. If you have questions, ideas or are interested in more information about a digital signage network, call us at or email us at mjstrandweb at StrandVision.com.
Corporate Profile
Contact
Overview
StrandVision, LLC is a Wisconsin based partnership that is a small business with less then 50 employees. It was started in August, 2003 by Mike Strand.
He previously ran StrandWare, an international bar code software manufacturer. During its initial 13 years, StrandWare produced over 27 titles, including the label design software, Label Matrix. After selling StrandWare, Mike consulted with area businesses to improve their business marketing, processes, technology usage, and employee productivity.
Mike discovered that communication to customers and employees was a consistent need for these diverse companies. Wanting to help, he developed this site as an experiment. It has evolved to show custom messages to millions of people every year. For additional information, please view our corporate background brochure.
Executive Summary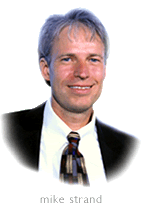 Mike Strand is president of StrandVision, an Internet ASP that allows customers to create and provide their own custom digital signage business marketing messages to customers and employees via the Internet. Prior to this, Strand joined Milwaukee based Brady Worldwide as Global Technology Advisor in 2001 following the acquisition of StrandWare Inc., which he founded in 1988. In his previous role, he was responsible for strategic and day-to-day operations as well as the marketing and technical direction of the company. Under his leadership, StrandWare became an internationallyrecognized name in the bar code industry and garnered several industry awards. Prior to founding StrandWare, he was a programmer with Cray Research Inc. and Delta Technology International Inc.
Quick Facts
Recent Releases
Here are the last 3 press releases. You can see more here.
Recent Case Studies
Here are the last 3 case studies / white papers. You can see more here.
Artwork
Artwork for individual articles can be requested from the media contact shown above. Generic ones are provided here. Do a "Save As" on these for small images. Click on the image to load a high resolution version of the image.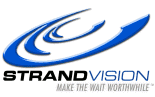 Here is the logo in .eps or .ai format