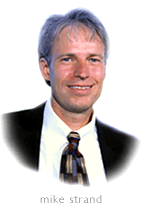 StrandVision Digital Signage was started on August 18, 2003 by Mike Strand. He previously founded StrandWare, an international bar code printing and tracking software manufacturer. During its initial 13 years, StrandWare produced over 27 titles, including the label design software, Label Matrix. After selling StrandWare, Mike consulted with area businesses to improve their business marketing, processes, technology usage, and employee productivity.
Mike discovered that communication to customers and employees was a consistent need for these diverse companies. Wanting to help, he developed this site as an experiment. It has evolved to show custom messages to millions of people every year. We hope to add your company to our growing customer base.
Over the years, StrandVision has created Digital Signage products ranging from Digital Signage Software, Digital Media Players and Digital Signage Solutions including complete Digital Signage Network advice or installation. For additional information, please view our corporate background brochure.
On March 23, 2010, Patent #7,685,259, entitled "Locally responsive kiosk signage from on-line source," was granted to Michael J. Strand, the company's founder, president and CEO. StrandVision Digital Signage is licensing the patented technology to providers of distributed digital signage services. Interested parties should contact StrandVision at or email sales at StrandVision.com.
Please email strandadmin at StrandVision.com or call with your questions or comments. We are eager to help make the wait worthwhile for your customers and employees.
StrandVision Headquarters