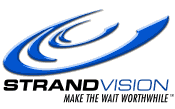 FOR IMMEDIATE RELEASE
MENOMONIE, Wis. - Dec. 8, 2014 - StrandVision Digital Signage today announced a year end holiday special bundle for the StrandVision R360 Linux digital media player through January 9, 2015. Customers who purchase the book sized pc that is specially built for StrandVision Digital Signage to be managed by the electronic signage cloud will receive a free digital signage duplicate subscription for a year ($299.99 MSRP) and a free 2 year warranty extension ($89.99 MSRP). Additionally, all customers who purchased the Linux digital signage appliance between September 8, 2014 and December 7, 2014 will receive a credit on account for each two year extension purchased plus a one year new or extended duplicate subscription.
"As we continue the joys and preparation of the year end holiday season, StrandVision would like to wish everyone the very best.  We are pleased to offer this special promotion as an additional thank you to our loyal customers who are expanding their StrandVision Digital Signage network," commented StrandVision founder and CEO Mike Strand. "And of course we are continuing to offer free digital signage features including our free Communication Library digital signage content throughout the year to all of our subscribers".
Everyone insterested in taking advantage or learning more about this discount should contact StrandVision Digital Signage by calling 715-235-SIGN (7446) or emailing sales at StrandVision.com.
About StrandVision
StrandVision LLC, based in Menomonie, Wis., delivers low-cost, cloud-based digital signage software content to subscribers' digital media player displays, as well as computer screens, websites and mobile devices. StrandVision's patented approach distributes customer created text, graphics, videos, RSS/social media feeds along with pre-packaged worldwide, national and local weather and news. It is ideal for many business marketing applications for waiting rooms (patient and customer information); banks and retailers (video merchandising); education (student, staff and visitor information); business and industrial settings (employee communication and operational/performance information); as well as nonprofit and religious organizations (member and supporter communication).
StrandVision also offers supporting digital signage hardware including PC-2-TV.net, a fully digital, high-definition (HD) video extender for long distance multi-screen distribution, Linux digital media players to ease and optimize electronic signage network installation and several large-format displays including freestanding pedestal displays. StrandVision Digital Signage services, installation and equipment are available directly from StrandVision and through registered affiliates and system integrators. Additional information about StrandVision Digital Signage is available at StrandVision.com, 715-235-SIGN (7446) or by emailing sales at StrandVision.com.
###
Names may be trademarks of their respective owners.
EDITORS: For further information:
Mike Strand
StrandVision Digital Signage
6595 South Shore Drive
Altoona, WI 54720-2386
715-235-SIGN (7446)
mjstrandweb at StrandVision.com