Background with Places of Worship
Digital signage is especially effective at reaching younger members and supporting clubs, community missions and other outreach programs. StrandVision Digital Signage uses your existing televisions to support worship, distribute daily announcements, and reach specific audiences through special programming and/or multilingual signs, photos and video.
Because digital signs are always available, members can check for the latest information any time of the day or night. The StrandVision Digital Signage system can send different messages to different locations and at different times of the day. StrandVision's "live" television option also enables groups, such as child care centers, to view real-time cable or satellite feeds, video or DVD-sourced programming, or live camera-sourced video.
FREE DIGITAL SIGNAGE TRIAL
StrandVision Digital Signage offers a free digital signage software trial account for religious institutions. This includes sample content templates and personalized assistance to get your digital signage network up and running.
Totally Free Digital Signage Software
If you are a qualifying Section 501(c)(3) public religious organization, you can receive totally free digital signage software from StrandVision Digital Signage for five years. Apply for your free digital signage today!
Customer Stories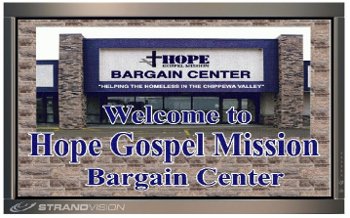 Hope Gospel Mission Carries its Message with StrandVision Digital Signage
Hope Gospel Mission offers short-term emergency shelter and long-term programs dedicated to addressing the root causes of a homeless person's problems. The Mission requires the continued support of the community and a key source of funds comes from its Bargain Center. A StrandVision digital sign is located in the store to help Hope Gospel bring its mission to the public.
July 30, 2009 > See More
Copyright © 2003-2023
Usage
Large TV or plasma screen
Smaller TV or computer monitors for lobbies, meeting rooms and other public spaces
Multiple locations can show the same or customized content
Simple text and graphics slides or full video (with or without audio)
Optional, simultaneous cable/satellite television or live video feeds combined with digital signage
Multiple languages
Possible Digital Signage Content
Audiovisual support for worship and prayer meetings
Upcoming social and community events or meeting notices
Guest speakers/presentations
Children's programs
Individual and group recognition/awards
Registration and other administrative information
Volunteer, school, daycare and other schedules
Community information
Local weather and weather advisories
Breaking news
Benefits
Provides a centralized communication point for the institution
Indirect payback:

Enhanced communications with the church community
Projects technological leadership
Supplements or replaces traditional paper notices
Provides hearing impaired or non-English speaking individuals with an opportunity to view important information