Our Vision
StrandVision Digital Signage is here to help companies effectively communicate and evolve relationships with their customers and employees. The ultimate goal is to increase profits by increasing overall satisfaction with effective communication.
Our Mission
The goal at StrandVision is to provide innovative business marketing solutions that positivley impact each customer, employee and the company. Each professional at StrandVision operates on the principles of courtesy, honesty and consistency, with the customer always a top priority.
StrandVision Core Values
In order to keep consistent throughout the life of the company, all employees of StrandVision operate under a series of core philosophies.
StrandVision will not compete with resellers by selling to end-users without their knowledge and agreement.
StrandVision will not compete with the resellers with non-software products without their knowledge and agreement.
StrandVision's primary focus is Computer Software Development and Business Marketing.
StrandVision will develop products to lead the industry in the future.
The needs of the customer must always come first.
The corporate culture must be such that it remains a fun, fair, friendly and good environment to work in with the ability to grow rapidly.
StrandVision will develop product, sales, marketing and partnership channels that benefit small to medium sized companies that will grow with them into large companies.
Company Culture: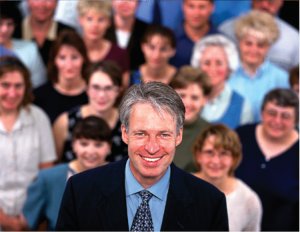 emphasizes the values of autonomy and entrepreneurship
encourages the employees to take risks - for example, to find new ways to provide high-quality products or customer service
top managers are closely involved in the day-to-day operations of a successful company and do not simply make decisions isolated in some "ivory tower"
employees are committed to instrumental values and norms that encourage a "hands-on, value-driven approach"
the organization sticks to what it does best and maintains control over its core activities
establishes close relations with customers and adopts customer-oriented norms as a way of improving the company's competitive position
learns customer needs and improves their ability to develop products and services that customers desire
tries to establish values and norms that motivate employees to do their best
believes that productivity is obtained through people and that respect for the individual is the primary means by which a company can create the right culture for productive behavior
develops values that demonstrates their commitment to investing in their human resources, to increase their worth and promote the success of the organization
encourages employees to learn new skills or better utilize existing skills
increases spending on education and training and invests in the long-term development of workers
To further understand the importance of the corporate culture, please read this.