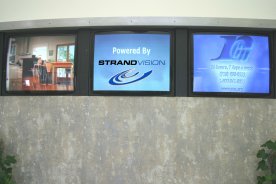 Here's a customer messaging system that requires no investments in time or equipment. All you need is an Internet connection, and you can begin delivering information and marketing messages to customers over any computer or television display.
The Product "Online-Kiosks.net" is offered by StrandVision, LLC. of Eau Claire, Wisc.
The company says that this product reaches customers when they are most likely to buy - in waiting rooms, lobbies or drive up lanes - and presents opportunities to cross-sell customers through customer marketing messages.
Online-Kiosks.net uses a "hosted" approach. Subscribers create and maintain their individualized sites on Online-Kiosks.net's remote servers.
The product is intended to be easy-to-access and use, affordable and flexible.
Suggested uses: to promote interest rates, new products, local events and other benefits to customers. Use in branch lobby or at drive-up windows.