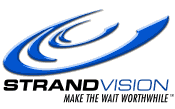 FOR IMMEDIATE RELEASE
MENOMONIE, Wis. – Jan. 15, 2014 – StrandVision Digital Signage today announced that it has partnered with Advantage Leasing Corporation of Brookfield, Wis. to provide leasing to its customers for its digital signage networks, as well as other software, equipment and services.
"We are extremely pleased to be able to offer the additional flexibility that electronic signage leasing provides to our customers," commented Mike Strand, StrandVision founder and CEO. "Leasing enables them to get the digital signage network that they want and need easily and quickly. We are excited to be working with Advantage, a first-class leasing company with deep equipment leasing experience and a sterling reputation for integrity and customer service."
The equipment leasing arrangement allows StrandVision direct and reseller channel customers to execute a single financial agreement directly with Advantage for all of their StrandVision purchases, including screens, digital media players, PC-2-TV.net video distribution and the electronic sign subscription portion of the expense. Customers will continue to work directly with StrandVision and/or their local reseller on the technical aspects of the installation.
StrandVision resellers benefit by being able to offer their customers the services of a national leasing company with expertise in digital signage and business-to-business technology and equipment. Leasing enables resellers to make incremental sales, get paid up front and concentrate on selling and servicing their customers while leaving the financial details to others. Mike Strand penned an article on leasing for Vertical Systems Reseller's online publication, VSR Online, in 2009 that outlines the benefits of leasing for resellers. It is located at: https://www.strandvision.com/leasing_technology_like_car_companies.html.
"We're pleased to add StrandVision to our portfolio of vendor partners," said Deanne Schneider, Sales Executive, Advantage. "We're looking forward to supporting StrandVision's digital signage solutions and know that by using our tailor-made financial tools we'll open doors for StrandVision and its reseller partners while enabling customers to cost effectively install more robust and complete systems that better serve their needs."
About Advantage Leasing
Advantage is a 21-year-old national lender based in Brookfield, Wis. that works with businesses, manufacturers, franchise companies, distributors and dealers throughout the United States. Its "Common Sense" approach to leasing/financing has earned it an A+ rating with the Better Business Bureau, and positive satisfaction ratings from all the customers that have responded to its "after funding" surveys with 90% rating their experience as an excellent. Advantage Leasing can be reached by calling 800-949-7040 or visiting www.advantageleasing.com.
About StrandVision
StrandVision LLC, based in Menomonie, Wis., delivers low-cost, Web-based digital signage software through a patented cloud-based approach that delivers content to subscribers' LCD flat panel screens, as well as computer screens, websites and mobile devices. StrandVision's service distributes text and graphics pages, video content and national and local weather and news. It is ideal for many large and small business marketing applications, including medical and dental offices (patient education); banks, retailers and industrial distributors (video merchandising and operations information display systems); education (student communication, staff and visitor information); employee break rooms (employee communication of events and benefits); nonprofit and religious organizations (member and supporter communication).
StrandVision also offers
PC-2-TV.net
, a fully digital, high-definition (HD)
video extender
to connect a computer to a television over long distances for use with digital signage and many other applications. StrandVision Digital Signage services and PC-2-TV.net are available directly from StrandVision and through registered affiliates and
system integrators
. Additional information about StrandVision
Digital Signage
is available at
StrandVision.com
, by calling or emailing
sales at StrandVision.com
.
###
Names may be trademarks of their respective owners.
EDITORS: For further information:
Mike Strand
StrandVision Digital Signage
6595 South Shore Drive
Altoona, WI 54720-2386
715-235-SIGN (7446)
mjstrandweb at StrandVision.com