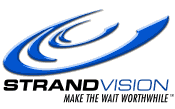 FOR IMMEDIATE RELEASE
EAU CLAIRE, Wis. - Dec. 5, 2005 - The Chippewa Valley Angel Investors Network LLC today announced a $250,000 equity investment in StrandVision LLC [www.strandvision.com] headquartered in Eau Claire. StrandVision is a startup provider of hosted digital signage services. It is the second venture of founder and CEO Mike Strand, who previously founded StrandWare, a bar code labeling software company.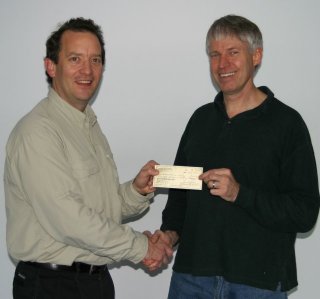 The investment in StrandVision is the Network's fourth equity investment since its founding in April 2003 and brings the group's total investments to over $1,000,000. In 2005 alone, the Network invested $695,000 in Chippewa Valley ventures. The StrandVision investment will be used to continue product development and to further ramp up marketing and sales.
"StrandVision was very attractive to the Chippewa Valley Angel Investors Network on many levels," said Pete Marsnik, Chippewa Valley Angel Investors Network manager. "It is a local business with a solid business plan and Mike has an impressive track record. StrandVision's business concept is not only sustainable but exciting and scalable. We like to say we put the 'smart' in 'smart money' so, beyond the funding, we look forward to working with Mike to help him take StrandVision to the next level."
"This is a tremendous vote of confidence for me and for StrandVision," commented Mike Strand. "We are really moving things along in both product development and sales to banks, industrial distributors and health care providers. The investment is a major infusion that will enable us to speed up the process. Just as important, we are looking forward to taking advantage of the Network's members' expertise and advice."
The Chippewa Valley Angel Investors Network
The Chippewa Valley Angel Investors Network LLC [http://www.chippewavalley.org/brdirectory/angelnetwork.htm] was founded in April 2003 to provide a resource for entrepreneurs seeking equity financing in the Chippewa Valley. Supported by Momentum Chippewa Valley, the network is owned and operated by its member angel investors. It meets monthly to view presentations from businesses that have been pre-selected and invited to present. The Chippewa Valley Angel Investors Network is operated in a manner that allows each investor to make his or her own decision on each company seeking equity, which results in a high degree of autonomy for the investors. In addition to their equity investments, investors also contribute their expertise as board members and as advisors to the recipient ventures.
About StrandVision
StrandVision LLC is the latest venture of Mike Strand, founder and CEO, who previously founded StrandWare Inc., one of the leading providers of bar coding and data capture software. StrandVision provides low-cost, high-availability hosted digital signage services that can be implemented quickly and easily by a wide range of companies. Its innovative Internet-based approach allows customers to manage and update multiple digital signage locations through an easy-to-access, easy-to-use Web interface. StrandVision works with a variety of suppliers, value added resellers and systems integrators to provide customers with seamlessly integrated installations. Additional information about StrandVision is available at www.strandvision.com, or sales at StrandVision.com.
###
All trademarks are the property of their respective owners.
EDITORS: For further information:
More information: http://www.prweb.com/releases/2005/12/prweb317847.htm