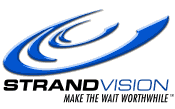 FOR IMMEDIATE RELEASE
MENOMONIE, Wis. - June 5, 2012 - StrandVision Digital Signage today announced new, free digital signage capabilities that enable subscribers to display full-motion, animated PowerPoint presentations over their StrandVision Digital Signage networks.
The new features allow subscribers to efficiently upload multiple PowerPoint presentations at a time, as well as display complete presentations with all slide builds, transitions, animations and embedded audio tracks, as they appear in the original .ppt or .pptx presentation files. This enables StrandVision Digital Signage subscribers to distribute to easily digital signage content such as corporate announcements, management presentations, training programs and business marketing promotional materials as they appear in the original PowerPoint presentations.
New upload features include:
Batch uploads of multiple .ppt or .pptx files;
Ability to select fully animated or traditional image conversion types;
Automatic conversion of uploaded PowerPoint files in minutes for use on the StrandVision Digital Signage network;
Automatic naming of digital signage content pages using the original file name;
Automatic addition of the uploaded presentation directly to the subscriber's digital signage page mix within their Content Management System (CMS) portal;
The ability for subscribers to customize the conversion email confirmation process for each PowerPoint submitted;
Easy replacement of previously uploaded PowerPoint presentations by uploading a new or modified file with the same name.
Presentation features include:
Full .ppt and .pptx capabilities. All builds, transitions and animations in original presentations are preserved and included in the final video file;
Background music, sound effects and audio narration are retained in the presentation. (Playback requires audio-enabled digital signage capabilities at the display points.)
"Prior to digital signage, PowerPoint was the lingua franca of corporate communications," said Mike Strand, StrandVision founder and CEO. "So, extending its full capabilities to StrandVision Digital Signage as fully animated digital signage video opens new doors for our subscribers. StrandVision's upload and display process is now easier, more efficient and more capable than ever before. Whether it's for employee communications or training, business marketing or information, subscribers can now use a familiar format, PowerPoint, to create stimulating digital signage content."
The automatic PowerPoint presentation capabilities are included immediately as a free digital signage capability to StrandVision Digital Signage subscribers with Streaming Video, Gold and Platinum packages. Subscribers can have an unlimited number of PowerPoint slides up to the page limits of their license. Although the resulting conversion is internally handled as a video file, the PowerPoint-converted presentations do not count towards digital signage package video limits. StrandVision Digital Signage Basic Package subscribers continue to be able to display PowerPoint slides over their networks using the traditional PowerPoint-to-image conversion process.
About StrandVision
StrandVision LLC, based in Menomonie, Wisconsin, delivers low-cost, Web-based digital signage software through a patented Software as a Service (SaaS) approach that delivers content to subscribers' LCD flat panel screens, as well as computer screens and websites. StrandVision's service distributes text and graphics pages, video content and national and local weather and news. It is ideal for many large and small business marketing applications, including medical and dental offices (patient education); banks, retailers and industrial distributors (video merchandising); education (student communication, staff and visitor information); employee break rooms (employee communication of events and benefits); nonprofit and religious organizations (member and supporter communication).
StrandVision also offers PC-2-TV.net, a fully digital, high-definition (HD) video extender to connect a computer to a television over long distances for use with digital signage and many other applications. StrandVision Digital Signage services and PC-2-TV.net are available directly from StrandVision and through registered affiliates and system integrators. Additional information about StrandVision Digital Signage is available at StrandVision.com, by calling or emailing sales at StrandVision.com.
###
All trademarks are the property of their respective owners.
EDITORS: For further information:
Mike Strand
StrandVision Digital Signage
6595 South Shore Drive
Altoona, WI 54720-2386
715-235-SIGN (7446)
mjstrandweb at StrandVision.com