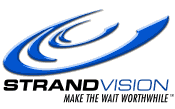 FOR IMMEDIATE RELEASE
WINGATE, Penn. - Aug. 18, 2010 - StrandVision LLC today announced that Bald Eagle Area School District (BEASD) has selected StrandVision Digital Signage for student and community communications at its middle-high school that serves 12 northern Centre County, Pennsylvania communities.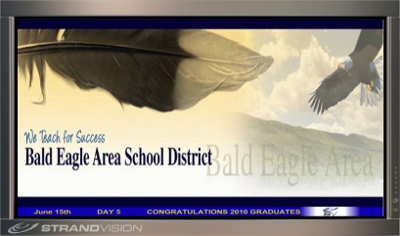 The signage carries several school communication messages, including student notices and after-school activities/bus schedules, sports notices and results, awards and recognition, event promotions and recaps. It also serves as a bulletin board for the public in support of the many community meetings that take place at the school complex. The same digital signage network of large (60") screens is used to display streaming video feeds from the gymnasium to the cafeteria to accommodate overflow audiences at community events.
The digital signage, which is updated daily by school staff, takes advantage of StrandVision's Internet-based digital signage delivery system. StrandVision provides digital signage page templates, split screens, crawling text and the ability to post pictures, text and graphics at any time. It also offers automatically updated local weather and news. The BEASD displays are all located in the middle-high school building complex, but, using StrandVision's Internet distribution, can easily be extended to each of the buildings in the District.
Commented Bill Corkill, BEASD instructional technology specialist and activities director, "We first looked at doing our own signage. But the StrandVision price point was so good that we decided to use the service that they offered. It's made it easy for us to update the signage right from our computers and rely on StrandVision to automatically update the displays."
"Bald Eagle Area School District is making good use of the StrandVision system by extending it beyond the student marketing during the school day to meet its particular needs and reach the general community," said Mike Strand, StrandVision founder and CEO. "They've taken advantage of the system's flexibility to get the greatest return. BEASD had well-defined objectives that they translated into an effective system that supports its educational and community missions."
About StrandVision
StrandVision LLC, based in Menomonie, Wisconsin, delivers low cost digital signage that is Web-based and Software as a Service through a patented approach that delivers content to subscribers' LCD and plasma displays, as well as computer screens and websites. StrandVision's service distributes text and graphics pages, video content, and national and local weather and news. It is ideal for medical and dental offices (patient education), banks, retailers and industrial distributors (video merchandising), education (student, staff and visitor information), employee break rooms (events and benefits), non-profit and religious organizations (member and supporter communications), and other applications.
StrandVision also offers PC-2-TV.net (http://www.pc-2-tv.net), a fully digital, high-definition (HD) personal computer-to-television adapter for use with digital signage and many other applications.
StrandVision Digital Signage services and PC-2-TV.net are available directly from StrandVision and through registered affiliates and system integrators (www.strandvision.com/digital_signage_installers.html). Additional information about StrandVision and a free trial subscription are available at www.strandvision.com, by calling or emailing sales at StrandVision.com.
###
All trademarks are the property of their respective owners.
EDITORS: For further information:
Mike Strand
StrandVision Digital Signage
6595 South Shore Drive
Altoona, WI 54720-2386
715-235-SIGN (7446)
mjstrandweb at StrandVision.com