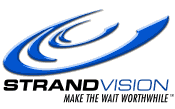 FOR IMMEDIATE RELEASE
EAU CLAIRE, Wis. - Sept. 6, 2006 - StrandVision LLC (http://www.strandvision.com), a provider of Internet-based digital signage services, is offering video merchandising solutions for banks. Targeted to small and mid-sized banks, the StrandVision hosted approach does not require large up-front investments in hardware, software or services.
StrandVision digital signs located in bank customer service areas are an excellent way to cross-sell customers. They can promote loan and CD sales, introduce investment, insurance or health savings account products, promote community projects, run local news and weather - they can even air television ads, videos and other promotional multi-media. Non-technical administrative staff can handle day-to-day content updates as often as needed with instant updates to all branches without local staff involvement.
Webinar explains benefits
StrandVision has scheduled two 30-minute Webinars to explain how digital signs can help banks deliver consistent messages to all branches in a fast, easy way. The session addresses how digital signage can often be funded under existing budget allocations and how it can help increase sales of non-traditional services to existing customers. The introductory session is scheduled for September 14 at 2:00 PM (Central) and will be repeated on September 19 at 10:00 AM (Central). The Webinars will discuss the setup, operation and marketing potential of StrandVision digital signs and will include a live Q&A at the conclusion. Register at: http://www.strandvision.com/digital_signage_webinars.html.
Simple design - powerful results
StrandVision digital signs require only a broadband Internet connection and a standard personal computer, and can be shown on existing lobby or drive up lane television equipment, personal computer screens, LCD, and plasma monitors. Some banks, using the optional "screen saver" capability, automatically display digital signage content on idle customer service representative computers, making the entire lobby a selling environment.
StrandVision digital signs can also be used for employee communications and employee training, as well as benefits and events notices. Some banks use dedicated displays in cafeteria and break or meeting rooms, while other banks schedule content on the customer displays to carry employee messages before and after regular business hours. The StrandVision scheduler can also be used to precisely schedule, coordinate and launch marketing campaigns.
Bank marketing directors like the flexibility of StrandVision digital signs because they can easily update the content to quickly respond to market opportunities, such as changes in savings, certificate and loan rates. In-house graphic artists or ad agencies can also be authorized to update marketing content. Updates are as easy as logging onto the Web using personalized security connection information. There is no need for additional expensive and time consuming third-party digital signage service providers.
"StrandVision's digital signage approach for banks is genuinely new and different," commented Mike Strand, StrandVision founder and CEO. "We allow banks to fully leverage their other marketing materials at the moment that it counts the most - when customers are about to approach bank staff for service. StrandVision digital signs are inexpensive and efficient, and they help banks decrease perceived wait time and project a technically savvy image while making customers comfortable throughout their transactions."
About StrandVision
StrandVision LLC, previously Online-Kiosks, delivers low-cost, high-availability hosted digital signage services through a patent-pending, Internet-based approach that eliminates the need for complex and expensive onsite hardware. It delivers content directly to subscribers' televisions, including LCD and plasma displays, and computer screens. StrandVision's Web-based service makes it easy to set up, maintain and quickly distribute text messages and graphics, including advertisements, video content, and national and local weather and news. It is ideal for medical and dental offices (patient education); banks, retailers and industrial distributors (video merchandising); employee break rooms (events and benefits); non-profit and religious organizations (client and fundor communications); and other applications. StrandVision Digital Signage services are available directly from StrandVision and through registered affiliates and system integrators (www.strandvision.com/digital_signage_installers.html). Additional information about StrandVision and a free trial subscription are available at http://www.strandvision.com, by calling or emailing sales at StrandVision.com.
###
All trademarks are the property of their respective owners.
EDITORS: For further information:
Mike Strand
StrandVision Digital Signage
6595 South Shore Drive
Altoona, WI 54720-2386
715-235-SIGN (7446)
mjstrandweb at StrandVision.com
More information: http://www.prweb.com/releases/2006/09/prweb433461.htm