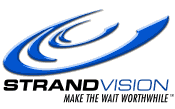 FOR IMMEDIATE RELEASE
ANN ARBOR, Mich. - Nov. 17, 2005 - StrandVision LLC (www.strandvision.com), a provider of hosted digital signage services, today announced that the Bank of Ann Arbor (http://www.boaa.com) has selected StrandVision technology for its branch network. The digital signage rollout follows a successful pilot test in a single branch. The Internet-based digital signage system is being used to display bank information, products and promotions. It replaces a kiosk network that had been used by the bank over the last nine years.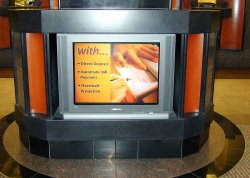 "Both our marketing and technical staffs were searching for a new video merchandising approach for our branches," commented Jeff J. Stanton, Bank of Ann Arbor vice president and CTO. "We wanted more control over the process and easier, more versatile updating. With StrandVision, we found a Web-based system that is easy, reliable and extremely cost effective."
In the past, updates to the video merchandising system were submitted to a service provider which then designed and posted the update. This required up to two weeks and the bank was charged for design and technical services for each update. Now, a marketing administrator logs into the bank's secure area on the StrandVision Web site and makes the updates in real time over the Web. This enables the bank to quickly implement promotions and display current rates; it now posts mortgage rates daily, for instance.
StrandVision takes a new approach to digital signage by delivering content directly to television screens or computer monitors over the Internet. StrandVision eliminates backroom computer and support costs and complexities, delivers reliable, flexible content, and can be implemented in a fraction of the time and at considerably less cost than required for traditional systems. Users can select pre-defined templates, develop their own messaging, including pictures, and include StrandVision-provided content, such as national and local news, and weather. StrandVision even has the capability to automatically retrieve information, such as mortgage rates, directly from a customer's Web site to avoid duplicate efforts and to ensure consistent business marketing. Updates can be made as often as desired with no additional charges.
"The Bank of Ann Arbor is an innovative organization. Its marketing and technical staffs were quick to see the potential for this new approach to video merchandising," said Mike Strand, StrandVision founder and CEO. "StrandVision Digital Signage helps them be more responsive by giving the bank's marketing staff complete and instant control of the content through our Web interface without burdening the technical staff with creating and supporting a new delivery system."
About StrandVision
StrandVision LLC is the latest venture of Mike Strand, founder and CEO, who previously founded StrandWare Inc., one of the leading providers of bar coding and data capture software. Strand is dedicated to finding innovative ways for businesses to solve everyday challenges. StrandVision fulfills this mission by providing low-cost, high-availability hosted digital signage services that can be implemented quickly and easily by a wide range of companies. Additional information about StrandVision is available at www.strandvision.com, or mjstrandweb at StrandVision.com.
###
All trademarks are the property of their respective owners.
EDITORS: For further information:
Mike Strand
StrandVision Digital Signage
6595 South Shore Drive
Altoona, WI 54720-2386
715-235-SIGN (7446)
mjstrandweb at StrandVision.com
More information: http://www.prweb.com/releases/2005/11/prweb311359.htm