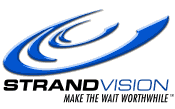 FOR IMMEDIATE RELEASE
MENOMONIE, Wis. – Dec. 4, 2012 – StrandVision Digital Signage today announced that it has enhanced its Basic Subscription Package by extending playback hours from 80 per week to unlimited 24/7 streaming from StrandVision's Internet-based digital media player system. This is a valuable extension for retailers, restaurants and hotels – any business that has extended hours – for both business marketing and employee communication applications over their StrandVision electronic sign networks.
The Basic Package is a robust digital signage cloud-based environment that features:
24/7 playback of signage
50 pages of content
Crawling information feeds
5 user-created databases
Animated U.S. weather maps
33 licensed news channels
Ability to accept RSS feeds
Quick Response (QR) code generation
Emergency announcement signage override
In addition, Basic Package subscribers have full access to the StrandVision online Content Management System (CMS) portal, as well as online and telephone support. The digital signage system also provides administrators with digital signage monitoring, usage reports and other administrative tools.
"This is a tremendous value for existing and prospective customers," commented Mike Strand, StrandVision founder and CEO. "It offers a fully-supported, commercial-grade digital signage network that exceeds the business marketing needs of most organizations. Now all companies, from local pizza shops to restaurant chains, retailers and hotels, as well as companies that want to reach employees on multiple shifts, have an inexpensive, easy-to-manage and reliable way to communicate."
The StrandVision Basic Package subscription is available for $499.99/year. Subscribers can also opt for monthly or quarterly billing; discounted multi-year contracts are also available. In addition to the Basic Package, StrandVision also offers a free digital signage trial subscription, as well as higher-level packages that include additional pages, streaming video, animated PowerPoint presentations and proof of playback. All of StrandVision's subscription packages are outlined at: http://www.strandvision.com/packages.html.
About StrandVision
StrandVision LLC, based in Menomonie, Wis., delivers low-cost, Web-based digital signage software through a patented Software as a Service (SaaS) approach that delivers content to subscribers' LCD flat panel screens, as well as computer screens, websites and mobile devices. StrandVision's service distributes text and graphics pages, video content and national and local weather and news. It is ideal for many large and small business marketing applications, including medical and dental offices (patient education); banks, retailers and industrial distributors (video merchandising); education (student communication, staff and visitor information); employee break rooms (employee communication of events and benefits); nonprofit and religious organizations (member and supporter communication).
StrandVision also offers
PC-2-TV.net
, a fully digital, high-definition (HD)
video extender
to connect a computer to a television over long distances for use with digital signage and many other applications. StrandVision Digital Signage services and PC-2-TV.net are available directly from StrandVision and through registered affiliates and
system integrators
. Additional information about StrandVision
Digital Signage
is available at
StrandVision.com
, by calling or emailing
sales at StrandVision.com
.
###
All trademarks are the property of their respective owners.
EDITORS: For further information:
Mike Strand
StrandVision Digital Signage
6595 South Shore Drive
Altoona, WI 54720-2386
715-235-SIGN (7446)
mjstrandweb at StrandVision.com