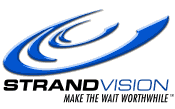 FOR IMMEDIATE RELEASE
EAU CLAIRE, Wis. - March 27, 2006 - StrandVision LLC (http://www.strandvision.com), a provider of hosted digital signage services, today announced that the Bircher Chiropractic & Wellness Clinic of Eau Claire has installed a StrandVision Digital Signage display in its front lobby. The digital sign provides a range of general and health information for the clinic's clients.
"The digital sign is a new way for us to share information with our clients," explained Amy Berger, Bircher Chiropractic & Wellness Clinic office manager. "For instance, we've been featuring information on our new 'HouseCalls' automated appointment reminder system. Since March is National Nutrition Month, we're also presenting our guidelines for optimal wellness, as well as nutrition suggestions and information on supplements from some of our suppliers."
To minimize cost and complexity, the StrandVision system receives digital signage content over the Internet. Bircher Chiropractic & Wellness Clinic required only a high-speed Internet connection and a converter to adapt the computer signal for a television set. Administration is easy since content can be added using any personal computer at any location. Berger simply types in new messages or loads graphics and StrandVision immediately updates the television screen with the new information.
"Simple, inexpensive digital signs are ideal for chiropractors and other service providers," said Mike Strand, StrandVision founder and CEO. "They allow organizations to deliver highly targeted messages to the right people at the right time to inform and educate. They're also a good way for service providers to partner with their suppliers to make people aware of their products while sharing the cost of the system."
About StrandVision
StrandVision LLC, previously Online-Kiosks (http://www.online-kiosks.net), uses a patent-pending Web services model to deliver low-cost, high-availability hosted digital signage services to businesses. It is ideal for medical and dental offices (patient education), banks (video merchandising), industrial distributors (vendor-sponsored advertising), employee break rooms (events and benefits) and other business applications. StrandVision eliminates the need for complex and expensive onsite hardware since it hosts the digital signage service on its servers and delivers content directly over the Internet via standard Web browser technology to televisions and computer displays in subscribers' offices and businesses. StrandVision's easy-to-setup and easy-to-update Web-based service enables administrators to maintain and quickly distribute text messages and graphics, including advertisements and video content. StrandVision enhances each company's customized content with national and local weather and news, stocks and other information of interest. Additional information about StrandVision and a free trial subscription are available at www.strandvision.com, or by calling or emailing sales at StrandVision.com.
###
All trademarks are the property of their respective owners.
EDITORS: For further information:
Mike Strand
StrandVision Digital Signage
6595 South Shore Drive
Altoona, WI 54720-2386
715-235-SIGN (7446)
mjstrandweb at StrandVision.com
More information: http://www.prweb.com/releases/2006/3/prweb363212.htm