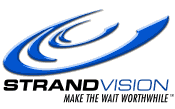 FOR IMMEDIATE RELEASE
ALEXANDRIA, Va. - Oct. 9, 2007 - Capital Lighting & Supply (CLS), the premier provider of electrical products and lighting in the Mid-Atlantic States, has turned to StrandVision LLC of Eau Claire, Wis. for a digital signage display to promote products and services at its Baltimore branch.
The digital sign is mounted over the parts counter where customers can easily view a rotation of informational slides and videos. The sign, a 42" LCD television monitor, displays national and local news, weather and sports, as well as CLS product and service offerings, training seminar announcements and industry notices. The sign also periodically shows promotional videos from CLS suppliers and features individual customers who participate in CLS promotions or win drawings.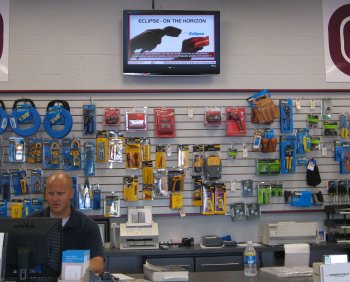 Designed to complement other CLS marketing materials, such as its Web site, email and postcard campaigns, newsletters and the Capital Now customer magazine, the StrandVision digital sign brings promotional messages directly to the point of sale - the parts/service counter. The digital sign provides a visual focal point and a means to passively communicate with customers as they receive service.
"We were able to introduce the digital sign as another avenue to communicate with customers and introduce new products, services and events," commented Marianne McGhee, CLS marketing manager. "It causes conversations between our customers and our counter personnel. The customers become aware of things they didn't know."
A Business Marketing Trend
Digital signs are a business marketing trend for industrial distributors. StrandVision's approach is low-cost and easy to implement, and does not require specialized knowledge or equipment. Its Internet-based approach employs a standard television screen, such as an LCD or plasma display, and a personal computer. The digital signage images are distributed over the Internet from StrandVision directly to the local display. Updates and changes are simply made at any time by logging onto a special password-protected Web site.
In Capital Lighting's case, Marketing defines the communications campaigns and a graphic designer develops the digital signage slides, along with the graphics for other CLS communications media. The slides are then posted to the StrandVision server by the company's Webmaster, who also administers the local digital signage system installation.
Explained Mike Strand, StrandVision founder and CEO, "StrandVision Digital Signage is designed to let companies add an innovative communications tool to leverage their current communications mix. We develop our products so that our customers get a simple, straightforward solution that is easy and quick to install and doesn't have a steep learning curve. That simplicity extends to day-to-day administration using our Web-based approach."
About Capital Lighting & Supply
Capital Lighting & Supply provides electrical products, lighting, and services to contractors, builders, and end-users in the Mid-Atlantic states. Our mission is to be the electrical distributor of choice. We service our customers from 20 locations throughout Maryland and Virginia and from our new 220,000 square foot headquarters and CDC to be completed by the summer of 2008 in Upper Marlboro, Maryland.
About StrandVision
StrandVision LLC of Eau Claire, Wis., previously Online-Kiosks, delivers low-cost, high-availability hosted digital signage services through a patent-pending, Internet-based approach that eliminates the need for complex and expensive onsite hardware. It delivers content directly to subscribers' televisions, including LCD and plasma displays, and computer screens. StrandVision's Web-based service makes it easy to set up, maintain and quickly distribute text messages and graphics, including advertisements, video content, and national and local weather and news. It is ideal for medical and dental offices (patient education), banks, retailers and industrial distributors (video merchandising), employee break rooms (events and benefits), non-profit and religious organizations (client and supporter communications), and other applications. StrandVision Digital Signage services are available directly from StrandVision and through registered affiliates and system integrators (www.strandvision.com/digital_signage_installers.html). Additional information about StrandVision and a free trial subscription are available at www.strandvision.com, by calling or emailing sales at StrandVision.com.
###
All trademarks are the property of their respective owners.
High resolution photo available.
EDITORS: For further information:
Mike Strand
StrandVision Digital Signage
6595 South Shore Drive
Altoona, WI 54720-2386
715-235-SIGN (7446)
mjstrandweb at StrandVision.com
More information: http://www.prweb.com/releases/2007/4/