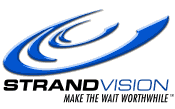 FOR IMMEDIATE RELEASE
ALEXANDRIA, Va. - June 10, 2009 - Capital Lighting & Supply (CLS), a Sonepar USA Company, the premier provider of electrical products and lighting in the Mid-Atlantic states, has deployed a digital signage network from StrandVision LLC of Menomonie, Wis. that extends to all of its 21 locations in Maryland and Virginia. It has also moved up to StrandVision's Platinum subscription level, which adds the ability to run unlimited playback of up to 60 minutes of streaming video within its mix of digital signage pages.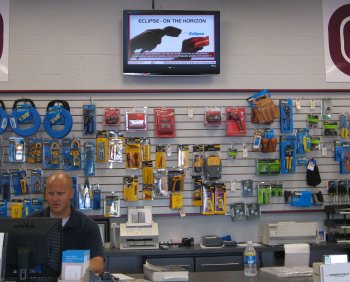 Capital Lighting uses the digital signs to promote products and services at its branch locations. The signage system also promotes upcoming training seminars and features customer events, as well as individual customers who participate in CLS promotions. The signage also offers industry notices and displays promotional videos from CLS suppliers who offset some of the cost of the system through coop advertising programs.
The signage network supports CLS' four regions by enabling corporate messages to be carried across all 21 locations while allowing region-specific pages promoting local events and promotions to be displayed in the local regions.
The digital signage displays, mostly 42" LCD television monitors, are mounted over parts counters where customers can easily view a rotation of informational slides and videos. The signs also display national and local news, weather and sports.
Designed to complement other CLS marketing materials, such as its Web site, email and postcard campaigns, newsletters and the Capital Now customer magazine, the StrandVision digital signs bring promotional messages directly to the parts/service sales counter. They provide visual focal points and a means to passively communicate with customers as they receive service.
The full rollout to all 21 locations enables CLS to project that they are a progressive organization while reaching customers with timely, consistent, actionable information right at the point of purchase.
"Our StrandVision Digital Signage network is yet another avenue to communicate with customers in order to introduce new products, services and events," said CLS Vice President, Marketing Ken Cain. "Many of our customers aren't aware of all of the products we carry or the services that we offer. The digital sign is a convenient, efficient way for us to let them know and, perhaps, save them a trip to another supplier. We're still discovering the digital sign's full potential."
A Business Marketing Trend
Digital signs are a business marketing trend for industrial distributors. StrandVision's approach is low-cost and easy to implement, and does not require specialized knowledge or equipment. Its Internet-based approach employs a standard television screen, such as an LCD or plasma display, and a personal computer. The digital signage images are distributed over the Internet from StrandVision directly to the local display. Updates and changes are simply made at any time to one or many screens by logging onto a special password-protected Web site.
In Capital Lighting's case, Marketing defines the communications campaigns and the slides are then uploaded to the StrandVision server by a marketing administrator who posts both the corporate-wide and regional pages and videos.
"Capital Lighting is typical of many StrandVision customers," said Mike Strand, StrandVision founder and CEO. "They experimented with a limited deployment and then expanded to the rest of their facilities. In the case of Capital Lighting, they also paid for the Premium video package to take advantage of more of their vendors' promotional tools. We're looking forward to continuing to work with Capital Lighting and seeing how their system evolves."
About StrandVision
StrandVision LLC delivers low-cost, Web-based Software as a Service (SaaS) digital signage through a patent-pending approach that delivers content to subscribers' LCD and plasma displays, as well as computer screens and Web sites. StrandVision's service distributes text and graphics pages, including advertisements, video content, and national and local weather and news. It is ideal for medical and dental offices (patient education), banks, retailers and industrial distributors (video merchandising), employee break rooms (events and benefits), non-profit and religious organizations (member and supporter communications), and other applications.
StrandVision also offers PC-2-TV.net, a fully digital, high-definition (HD) personal computer-to-television adapter for use with digital signage and many other applications.
StrandVision Digital Signage services and PC-2-TV.net are available directly from StrandVision and through registered affiliates and system integrators (http://www.strandvision.com/installers.html). Additional information about StrandVision is available at http://www.strandvision.com, by calling or emailing sales at StrandVision.com.
###
All trademarks are the property of their respective owners.
EDITORS: For further information:
Mike Strand
StrandVision Digital Signage
6595 South Shore Drive
Altoona, WI 54720-2386
715-235-SIGN (7446)
mjstrandweb at StrandVision.com