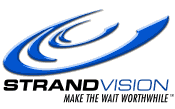 FOR IMMEDIATE RELEASE
EAU CLAIRE, Wis. - March 20, 2007 - Chippewa Valley Technical College (CVTC) (http://www.cvtc.edu) is deploying an Internet-based digital signage system hosted by StrandVision LLC (www.strandvision.com). The college activated digital signs at two locations on its main campus and at its Gateway campus over the spring break. The college plans six more deployments at other campuses over the summer.
The installation replaces networked personal computers that displayed a home-grown system that was similar to a repeating Microsoft PowerPoint presentation. The digital signage system uses 42-inch LCD and plasma screens that are strategically placed on the campuses based on student traffic patterns. The rollout follows a three-month pilot installation at the Eau Claire campus.
A new method to promote student activities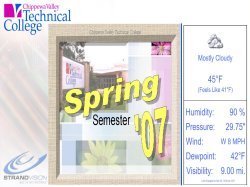 The digital signs provide a way to communicate student government and activities announcements. Each site has a campus coordinator and an authorized administrator manages the content.
Beyond student activities, the signage system also can be used to inform students about the college's weekend degree programs and to communicate with remote learning students and the community-at-large via a Web digital signage service. It can provide students and faculty with real-time notices, such as weather-related school closings or delays and disaster preparedness information. It can even give instructions at the beginning of the semester on how to link to the college computer network.
"The old system was more ad hoc. The personal computers were on the network, but updating and maintaining them required more time and effort," said Shawn Emberts, manager, user services.
StrandVision allows us to add functionality, such as automatically updated local news and weather, and designated content for different locations, and enables us to better monitor and control the entire system. We're just starting with it, but we're looking at several other capabilities that StrandVision offers, including Web page delivery, split screens, full video and, depending on the location, audio."
StrandVision's innovative approach to digital signage is ideal for colleges and any organization that requires timely information distribution. It is an Internet-based service that connects to televisions, LCD or plasma screens via cable television or computer networks.
The day-to-day administration is handled by a student activities staffer who updates content and adds graphics and design elements. The administrator simply logs onto the password-protected StrandVision server over the Internet and makes the changes using StrandVision's fill-in-the-form entry system, which has the look and feel of a regular Web page. The changes, to all locations or to a specific display, are automatically updated over the Internet.
"Chippewa Valley is making it easier for its student organizations to communicate with students, faculty and local communities. This system helps bring all of the college campuses together and increase student involvement," said Mike Strand, StrandVision founder and CEO and a CVTC alumnus. "At StrandVision, we developed the delivery system, but CVTC is coming up with innovative ways to use the system that we hadn't even thought of. We're looking forward to watching this installation evolve."
About StrandVision
StrandVision LLC of Eau Claire, Wisconsin, previously Online-Kiosks, delivers low-cost, high-availability hosted digital signage services through a patent-pending, Internet-based approach that eliminates the need for complex and expensive onsite hardware. It delivers real-time content directly to subscribers' televisions, including LCD and plasma displays, and computer screens. StrandVision's Web-based service makes it easy to set up, maintain and quickly distribute text messages and graphics, including advertisements, video content, and national and local weather and news. It is ideal for medical and dental offices (patient education), banks, retailers and industrial distributors (video merchandising), employee break rooms (events and benefits), non-profit and religious organizations (client and supporter communications), and other applications. StrandVision Digital Signage services are available directly from StrandVision and through registered affiliates and system integrators (www.strandvision.com/digital_signage_installers.html). Additional information about StrandVision and a free trial subscription are available at www.strandvision.com, by calling or emailing sales at StrandVision.com.
###
All trademarks are the property of their respective owners.
EDITORS: For further information:
More information: http://www.prweb.com/releases/2007/03/prweb512322.htm