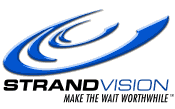 FOR IMMEDIATE RELEASE
HOLLYWOOD, Fla. - Oct. 14, 2008 - StrandVision LLC, a provider of hosted digital signage services, today announced that Triangle Management & Investment Inc., which operates four Choice Hotels in Florida, is using its digital signage system for guest communications and services at the Clarion Resort & WaterPark in Orlando, with plans for an additional deployment at the Fort Lauderdale Quality Resort that it manages.
Cost-effective, flexible digital signage
Triangle Management was seeking a cost-effective digital signage system that they could use in public areas and as the house channel on its cable television service. They found that StrandVision's Internet-based digital signage service met their needs on all fronts - low cost, remote management, ability to use the existing television network, and ease of use. The Clarion Resort & WaterPark in Orlando now has a network of 15 42-inch plasmas in the lobbies and restaurants, as well as almost 200 guest rooms, that delivers information through StrandVision's hosted digital signage system.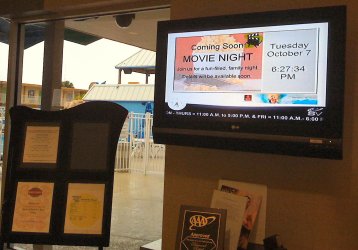 The system in Orlando is remotely managed and pages can be added over the Internet from Triangle Management's Hollywood office. The Orlando staff also updates and changes pages. For instance, the sales administrator at the hotel creates a digital signage welcome page when she books rooms for events. This may be months in advance and the StrandVision scheduler archives the page until the event is near and then automatically adds the welcome to the digital signage display and removes it when the event has passed.
The digital sign promotes Clarion's restaurants, menu specials and entertainment, as well as the WaterPark. It also offers news and weather, and other special announcements, such as tour schedules, transportation options and special events. The single digital signage system runs 24X7 in the public areas and is always available in all of the guest rooms.
"People are now more aware of our restaurants and our specials. We've seen an increase in breakfast business and our restaurant revenue has grown 10 to 15 percent since we've been using the sign," said Benny Fresco, Triangle Management director of technology. "With StrandVision's Internet-host approach we didn't have to buy additional equipment or software. The pages can be updated by the staff in Orlando in just a few minutes and we can see exactly what's on the screen and what's going to be on the screen in Orlando from our offices in Hollywood."
Triangle Management is planning to add a similar StrandVision Digital Signage system at the Fort Lauderdale Quality Resort that it manages - once again tapping into the hotel's cable TV system to deliver guest communications to both public and in-room screens. The emphasis for this property, however, will be on cruise ship and airport shuttle transportation schedules, as well as promoting the property's restaurants and amenities.
Commented Mike Strand, StrandVision founder and CEO, "Triangle Management is really taking advantage of our digital signage capabilities, from remote management to scheduling - all while using their existing television network. This is a truly effective digital signage installation, and we look forward to seeing how their signage system continues to evolve as we supply our service for their other properties."
About StrandVision
StrandVision LLC delivers low-cost, Web-based hosted digital signage services through a patent-pending approach that delivers content directly to subscribers' LCD and plasma displays, as well as computer screens and Web sites. StrandVision's service distributes text messages and graphics, including advertisements, video content, and national and local weather and news. It is ideal for medical and dental offices (patient education), banks, retailers and industrial distributors (video merchandising), employee break rooms (events and benefits), non-profit and religious organizations (member and supporter communications), and other applications.
StrandVision also offers PC-2-TV.net, a fully digital, high-definition (HD) personal computer-to-television adapter for use with digital signage and many other applications.
StrandVision Digital Signage services and PC-2-TV.net are available directly from StrandVision and through registered affiliates and system integrators (http://www.strandvision.com/installers.html). Additional information about StrandVision is available at www.strandvision.com, by calling or emailing sales at StrandVision.com.
###
All trademarks are the property of their respective owners.
High resolution photo available. Contact Sandy McLaughlin.
EDITORS: For further information:
Mike Strand
StrandVision Digital Signage
6595 South Shore Drive
Altoona, WI 54720-2386
715-235-SIGN (7446)
mjstrandweb at StrandVision.com