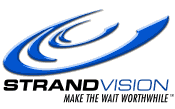 FOR IMMEDIATE RELEASE

PABLO, Mont. - Dec. 12, 2013 - StrandVision Digital Signage today announced that the Confederated Salish and Kootenai Tribes (CSKT) are using its Internet-based digital signage system to communicate their heritage and values to CSKT employees, Tribal people and visitors.
CSKT faced a unique business communications challenge in finding an innovative, visually interesting way to reach multiple audiences. It selected StrandVision Digital Signage for a display at its headquarters in Pablo, Montana. Since the StrandVision system is hosted in the cloud and requires only minimal onsite digital media player hardware, the CSKT were able to redeploy a surplus computer and 27" display for the initial installation, eliminating out-of-pocket equipment costs. In addition to the display in the lobby, the StrandVision network also broadcasts on the Char-Koosta News public web site for no additional charge.
The StrandVision Digital Signage features regular updates for employees, such as holiday and training schedules, awards and other human resources announcements through text, graphics and video content. Both the in-lobby display and the website digital sign include announcements for Tribal people on the reservation. Notices range from Tribal government news to hunting and fishing dates, healthcare updates, as well as upcoming community events - such as home buying classes, the mission/values statement and local weather, including weather radar that is automatically provided by StrandVision.
Since the CSKT headquarters in Pablo is the focal point for contact with outside constituents, including elected government officials, chambers of commerce, and visitors from around the world, the StrandVision signage also offers an easy way to personally welcome each guest and expose them to CSKT history and values.
"The goal from the start was to make the digital signage an extension of us telling our story. That's what drew me to StrandVision," commented Robert McDonald, CSKT communications director. "It's a powerful tool to help us tell our story in small chapters in a visually interesting way."
The StrandVision electronic signage network is now poised to be expanded to other locations across the 1.317 million acre - almost double the size of Rhode Island - CSKT Flathead Reservation with local government departments deploying their own implementation of the signage.
"The CSKT are in a perfect position to take advantage of StrandVision's cloud-based digital signage approach," said Mike Strand, StrandVision founder and CEO. "Any location with an Internet connection can be connected and show the programming that includes shared content from Pablo mixed in with its own individually created local programming. With both Web and onsite signage presence, the StrandVision network has the potential to reach virtually everyone on the Flathead Reservation."
About StrandVision
StrandVision LLC, based in Menomonie, Wis., delivers low-cost, Web-based digital signage software through a patented Software as a Service (SaaS) approach that delivers content to subscribers' LCD flat panel screens, as well as computer screens, websites and mobile devices. StrandVision's service distributes text and graphics pages, video content and national and local weather and news. It is ideal for many large and small business marketing applications, including medical and dental offices (patient education); banks, retailers and industrial distributors (video merchandising and operations information display systems); education (student communication, staff and visitor information); employee break rooms (employee communication of events and benefits); nonprofit and religious organizations (member and supporter communication).
StrandVision also offers
PC-2-TV.net
, a fully digital, high-definition (HD)
video extender
to connect a computer to a television over long distances for use with digital signage and many other applications. StrandVision Digital Signage services and PC-2-TV.net are available directly from StrandVision and through registered affiliates and
system integrators
. Additional information about StrandVision
Digital Signage
is available at
StrandVision.com
, by calling or emailing
sales at StrandVision.com
.
###
Names may be trademarks of their respective owners.
EDITORS: For further information:
Mike Strand
StrandVision Digital Signage
6595 South Shore Drive
Altoona, WI 54720-2386
715-235-SIGN (7446)
mjstrandweb at StrandVision.com