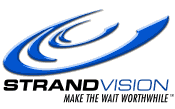 FOR IMMEDIATE RELEASE
EAU CLAIRE, Wis. - Jan. 22, 2007 - StrandVision LLC (www.strandvision.com), a provider of hosted digital signage services, has established a Digital Signage Content Developer Program to make it easy for StrandVision customers, as well as installers and resellers, to find approved graphic designers.
The Program is limited to content developers with proven capabilities in graphic design and customer communications. Two companies, Blue Pony Digital of Fort Wayne, Ind. (http://www.blueponydigital.com) and EZ New Media of Menomonie, Wis. (http://www.ezlink.net), are charter members.
The Content Developer Program was developed to assist StrandVision customers. "StrandVision Digital Signage customers are often smaller companies with signage and marketing content requirements that go beyond their in-house capabilities," explained Mike Strand, StrandVision founder and CEO. "The content developers listed on our site have experience in creating StrandVision digital signs so they will work quickly and efficiently. They can translate ideas into great looking signage and they can even regularly update and administer the signs, if that's what customers want."
StrandVision customers can visit http://www.strandvision.com/contentdevelopers.html to find the growing list of partners. Using the information provided on that site, the customers can then contact the various providers to evaluate their capabilities and arrange for services. They then work directly with the designer on the project.
The content developers are familiar with StrandVision's digital signage conventions and posting processes. With proper permissions, they can post content directly to the StrandVision Digital Signage server on behalf of their clients. They can even provide marketing services by scheduling special signage content to begin and end in support of marketing campaigns.
Content developers may contact StrandVision at , sales at StrandVision.com or visit www.strandvision.com for further details and program applications.
About StrandVision
trandVision LLC, previously Online-Kiosks, delivers low-cost, high-availability hosted digital signage services through a patent-pending, Internet-based approach that eliminates the need for complex and expensive onsite hardware. It delivers content directly to subscribers' televisions, including LCD and plasma displays, and computer screens. StrandVision's Web-based service makes it easy to set up, maintain and quickly distribute text messages and graphics, including advertisements, video content, and national and local weather and news. It is ideal for medical and dental offices (patient education), banks, retailers and industrial distributors (video merchandising), employee break rooms (events and benefits), non-profit and religious organizations (client and supporter communications), and other applications. StrandVision Digital Signage services are available directly from StrandVision and through registered affiliates and system integrators (www.strandvision.com/digital_signage_installers.html). Additional information about StrandVision and a free trial subscription are available at www.strandvision.com, by calling or emailing sales at StrandVision.com.
###
All trademarks are the property of their respective owners.
EDITORS: For further information:
Mike Strand
StrandVision Digital Signage
6595 South Shore Drive
Altoona, WI 54720-2386
715-235-SIGN (7446)
mjstrandweb at StrandVision.com
More information: http://www.prweb.com/releases/2007/01/prweb498724.htm