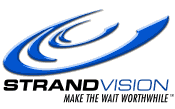 FOR IMMEDIATE RELEASE
ANAHEIM, Calif. - June 15, 2007 - StrandVision LLC of Eau Claire, Wis. today introduced digital signage database capabilities here at InfoComm (Booth #14001). The new free feature allows administrators to easily display information that resides in corporate databases, such as meeting notices, schedules, room assignments, birthdays and anniversaries, on StrandVision digital signs.
"StrandVision Digital Signage is all about flexibility and efficiency - while keeping it simple to install, use and maintain," remarked Mike Strand, StrandVision founder and CEO. "We've offered some basic database features in the past and, based on requests from our customers, we've developed this more robust application. Now, they can import information, schedule the data and control the way it is displayed."
Timely information
StrandVision digital signs are used in bank, office and hotel lobbies, retail stores, doctors' waiting rooms, schools and employee break rooms. The StrandVision database can enhance both communications effectiveness and viewer experience in virtually any venue with little effort from the company staff. For instance, health clubs, hotels, retirement communities and resorts can upload their activity schedules, room reservations and special events by exporting the information from their scheduling software to the StrandVision system.
An employee communications digital signage installation can use output from the human resources system to display and update anniversaries and birthdays, as well as employee events, newsletter content and benefits notices. Sales operations can use the system to recognize performance based on information from sales tracking databases.
Easy administration
The administrator simply logs onto the StrandVision Web host and selects the database entry option from the menu. He/she uploads the file to the StrandVision server, creates a database-enabled slide and adds it to the digital signage rotation for inclusion at the next refresh - within minutes. Each item can be selected separately or grouped as part of a scrolling or crawling text field on the page. Using StrandVision's built-in slide scheduling capabilities, the administrator can also designate what information is shown when - automatically adding and removing events from the display as the times or dates move in and out of range.
The StrandVision Digital Signage system accepts data from Microsoft Access, Excel and Word, enterprise-level databases, including Oracle and SAP, as well as from Web applications, such as Salesforce.com and Web databases - any application that provides text-based delimited files can be used as a source.
"StrandVision's approach empowers our customers to easily install and administer their own digital signage systems without a lot of expertise. The database feature gives them a tool to add timely information directly from their existing information sources," continued Strand.
About StrandVision
StrandVision LLC, previously Online-Kiosks, delivers low-cost, high-availability hosted digital signage services through a patent-pending, Internet-based approach that eliminates the need for complex and expensive onsite hardware. It delivers content directly to subscribers' televisions, including LCD and plasma displays, and computer screens. StrandVision's Web-based service makes it easy to set up, maintain and quickly distribute text messages and graphics, including advertisements, video content, and national and local weather and news. It is ideal for medical and dental offices (patient education), banks, retailers and industrial distributors (video merchandising), employee break rooms (events and benefits), nonprofit and religious organizations (client and supporter communications), and other applications. StrandVision Digital Signage services are available directly from StrandVision and through registered affiliates and system integrators (
www.strandvision.com/digital_signage_installers.html
). Additional information about StrandVision and a free trial subscription are available at
www.strandvision.com
, by calling or emailing
sales at StrandVision.com
.
###
All trademarks are the property of their respective owners.
EDITORS: For further information:
Mike Strand
StrandVision Digital Signage
6595 South Shore Drive
Altoona, WI 54720-2386
715-235-SIGN (7446)
mjstrandweb at StrandVision.com