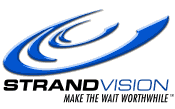 FOR IMMEDIATE RELEASE
EAU CLAIRE, Wis. - Aug. 16, 2006 - StrandVision LLC (http://www.strandvision.com), a provider of Internet-based digital signage services, has introduced an automated time-based counter, called Count Up/Down.
The Count Up/Down feature is useful for announcing the time until a meeting or church service starts, cruise or bus departures, theater and movie start times, store and office openings and other scheduled events. It is also an excellent automated way to count milestones. Some StrandVision customers are using it to list safety achievements such as days since the last Occupational Safety & Health Administration (OSHA) reportable or lost time accident, production goals achieved, time left to reach sales goals and sweepstakes deadlines.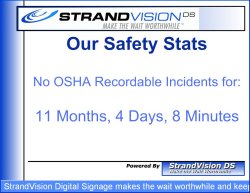 The Count Up/Down page offers several variable text areas including a "Message for Before Event" text field that is tied to the Count Down clock and will only display before the event occurs. For instance, it can display "The meeting will start in..." and the countdown clock will display the remaining time below this message in hours and minutes.
Once the event starts and the current time hits zero, the message is replaced by a "Message for After Event" text field that is also tied to the clock. It automatically replaces the before event message as the current time display counts up.
Users can specify time in progressively smaller elements starting in years, and then adding months, days, hours, minutes and seconds. For instance, a safety milestone can be displayed as 1 year, 3 months, and 7 days by specifying 3 elements. The time to meeting start can be represented as 1 hour, 42 minutes by specifying 2 elements; adding a third element enables seconds to be displayed.
When combined with StrandVision's scheduling feature, Count Up/Down slides can be scheduled to be automatically added and removed from the digital signage slide mix. For instance, a meeting notice for a 9:00 AM keynote speaker at a conference can be scheduled to begin the countdown at 7:00 AM until 9:00 when, using the scheduler, it is automatically removed from the StrandVision Digital Signage slide mix.
"The Count Up/Down feature is another example of how we're continuing to improve and enhance StrandVision digital signs," said Mike Strand, StrandVision founder and CEO. "Frankly, it came about through a customer request and we were happy to add the feature. Every day, customers help us specify new features that make our signage more flexible and useful for themselves and for all of our other customers."
About StrandVision
StrandVision LLC, previously Online-Kiosks, delivers low-cost, high-availability hosted digital signage services through a patent-pending, Internet-based approach that eliminates the need for complex and expensive onsite hardware. It delivers content directly to subscribers' televisions, including LCD and plasma displays, and computer screens. StrandVision's Web-based service makes it easy to set up, maintain and quickly distribute text messages and graphics, including advertisements, video content, and national and local weather and news. It is ideal for medical and dental offices (patient education), banks, retailers and industrial distributors (video merchandising), employee break rooms (events and benefits), non-profit and religious organizations (client and fundor communications), and other applications. StrandVision Digital Signage services are available directly from StrandVision and through registered affiliates and system integrators (www.strandvision.com/digital_signage_installers.html). Additional information about StrandVision and a free trial subscription are available at http://www.strandvision.com, by calling or emailing sales at StrandVision.com.
###
All trademarks are the property of their respective owners.
EDITORS: For further information:
Mike Strand
StrandVision Digital Signage
6595 South Shore Drive
Altoona, WI 54720-2386
715-235-SIGN (7446)
mjstrandweb at StrandVision.com
More information: http://www.prweb.com/releases/2006/8/prweb424422.htm