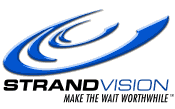 FOR IMMEDIATE RELEASE
Strand is a 1982 graduate in data processing, and a 1984 electronics graduate.
Strand, his wife Carmen, and their three children, all of whom have attended or are attending the technical college, accepted the honor at a recent CVTC banquet.
"Mike Strand combines highly developed technical and entrepreneurial skills with keen intelligence. When you look at the lives and biographies of men and women who have achieved great business success, those traits are frequently seen," said Bruce Barker, CVTC president.
"We are gratified that CVTC is the college of choice for the Strand family. It's a real endorsement of what we do," Barker said. The college president said many at CVTC were proud that Strand's programming and electronics skills could be traced in part to his technical college education.
Now the CEO of StrandVision, Strand was raised on a farm near Boyceville, Wisconsin and attributes his love for hands-on work to the years he worked alongside his dad, whose work ethic included the idea that almost anything could be fixed. It may have been that attribute that endeared Strand to supercomputer legend Seymour Cray.
Strand was chosen by the legendary engineer to work with him on a small team during the prototyping of the Cray 3, a supercomputer that boldly broke from past technology in employing gallium arsenide chips. Cray's fondness for hands-on work extended to an often expressed respect for technical staff with applied skills.
Strand told the CVTC audience that he and a handful of others were asked back in the day to do their own original designs for Cray's new gallium arsenide chips. It was astonishing faith to place in Strand, the young CVTC tech wonder, and he felt the honor of it at the time and more so today.
The experience of working with a towering figure like Seymour Cray left an indelible impression on Strand. Not long after his mentor split the company and took the Cray 3 to Colorado Springs, Strand, often working with his brother Harry, put together their own "skunkworks" team and developed a bar coding software company that would eventually see products placed in hundreds of Fortune 500 companies and years of annual sales in excess of $2 million.
Like Seymour Cray, Strand developed a reputation for brilliance and a clear preference for small start-up companies. "I've worked at big companies and small companies and I can tell you small companies are a lot more fun," he said.
Tim Fawcett, a former employee and currently an information technology instructor at CVTC, recalls company gatherings at StrandWare in the early days when the staff was called to the basement for parties.
Fawcett says Strand personified the notion that "if you really love your job, then you will never have to work a day in your life."
At the banquet Strand praised his employees--past and present--and credited them for "a lot of my accomplishments."
Twice Mike Strand has won the Eau Claire Area Economic Development Corporation's annual business plan contest. He also took top honors in the 2005 Governor's Business Plan Contest in the Information Technology/E-Commerce category. His current venture, StrandVision, marks the technoentrepreneur's interest in the internet.
StrandVision software networks plasma screen televisions that provide all manner of information from news to weather to corporate or organization announcements. CVTC was an early adopter of the technology.
"I thought it would be a neat project. I had to write a whole program around it and figure how to update it," Strand once told the Chippewa Valley Business Report.
"It's fun coming up with creative approaches that solve technical problems. I really love doing it. It's not hard to get up in the morning and go to work," Strand said.
The Distinguished Alumni Award is the most prestigious honor conferred upon a graduate of Chippewa Valley Technical College.
###
All trademarks are the property of their respective owners.
EDITORS: For further information:
Mike Strand
StrandVision Digital Signage
6595 South Shore Drive
Altoona, WI 54720-2386
715-235-SIGN (7446)
mjstrandweb at StrandVision.com