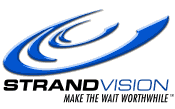 FOR IMMEDIATE RELEASE
EAU CLAIRE, Wis. - Nov. 28, 2006 - StrandVision LLC (www.strandvision.com), a provider of Internet-based digital signage services, and DataCall Technologies Inc., a news and information aggregator, today jointly announced that StrandVision has become a Strategic Partner. As a partner, StrandVision resells through its reseller channel and distributes DataCall's information packages to its customers over its digital signage network.
DataCall information packages are copyright-cleared so StrandVision's customers can be confident that the live feeds that they present over their digital signs are not only professionally packaged and up to date, but are also fully licensed. This removes the challenge of finding syndicated content for their signage systems and eliminates potential liability for presenting copyrighted materials. Also, DataCall and StrandVision certify their technical compatibility to ensure a smooth customer experience.
In commenting on the partnership, Mike Strand, StrandVision founder and CEO, said, "Rich content that is updated frequently is clearly important to StrandVision's customers. We want to complement our customers' locally-sourced information with timely, attractively presented and accurate information. We also want to relieve them of the potential liability they may have by presenting material from unknown sources. The DataCall integration with our system addresses all of these needs by presenting a menu of copyright-cleared information feeds that are now available directly through StrandVision's digital signage network."
DataCall feeds can include:
Sports (All major sports, including breaking headlines and scores)
News (National, business, sports, entertainment, etc.) and Weather (Current conditions, forecasts and alerts)
Financial (U.S. and world market details and news highlights)
Traffic (Top 50 metropolitan areas)
Other information (Amber Alerts, horoscopes, trivia, etc.)
Added Jim Ammons, DataCall president, "As a news aggregator, we're pleased to welcome StrandVision as a partner who is seamlessly integrating our content into their system. It is an up and coming company that is redefining the digital signage market. Its Internet-based digital signage delivery system is another efficient way for us to distribute our content and it is an easy way for StrandVision's customers to add our service."
DataCall's Live Feed services are available immediately to StrandVision subscribers direct from StrandVision or through their local resellers/installers.
About DataCall
DataCall was created in 2002 just as Digital Signage began to stake its claim in the world of advertising. Evolving and moving with the market, DataCall and its management began to hear the growing request for on-demand content — the ability to keep digital signage fresh, live and in motion. Answering this call, DataCall has grown with a vision to support this ever-expanding community with real-time information. The team at DataCall has worked tirelessly in an effort to continually improve the delivery, security and variety of this information to the Digital Signage community, providing the most effective and complete live feeds in our industry.
DataCall caters to both our manufacturers and end users. We never forget how they helped us see the void in the market. As digital signage grows and matures in width and technology, DataCall is committed to living on the cutting edge, constantly working on innovations in ease of use and expansion.
About StrandVision
StrandVision LLC of Eau Claire, Wisconsin, previously Online-Kiosks, delivers low-cost, high-availability hosted digital signage services through a patent-pending, Internet-based approach that eliminates the need for complex and expensive onsite hardware. It delivers content directly to subscribers' televisions, including LCD and plasma displays, and computer screens. StrandVision's Web-based service makes it easy to set up, maintain and quickly distribute text messages and graphics, including advertisements, video content, and national and local weather and news. It is ideal for medical and dental offices (patient education), banks, retailers and industrial distributors (video merchandising), employee break rooms (events and benefits), non-profit and religious organizations (client and fundor communications), and other applications. StrandVision Digital Signage services are available directly from StrandVision and through registered affiliates and system integrators (http://www.strandvision.com/?digital_signage_installers). Additional information about StrandVision and a free trial subscription are available at www.strandvision.com, by calling or emailing sales at StrandVision.com.
###
All trademarks are the property of their respective owners.
EDITORS: For further information:
Mike Strand
StrandVision Digital Signage
6595 South Shore Drive
Altoona, WI 54720-2386
715-235-SIGN (7446)
mjstrandweb at StrandVision.com
More information: http://www.prweb.com/releases/2006/11/prweb483620.htm