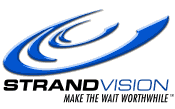 FOR IMMEDIATE RELEASE
Photo available at: http://www.Online-Kiosks.net/?videowall
EAU CLAIRE, Wis. – Sept. 21, 2004 – StrandVision, LLC today introduced Online-Kiosks.net (www.online-kiosks.net) an Internet-based messaging system that allows companies to deliver informational and business marketing messages to customers and employees over virtually any computer or television display. It reaches customers when they are most likely to buy – in a waiting room or lobby – and presents opportunities for businesses to cross-sell customers through custom marketing messages and sponsored advertising from vendors.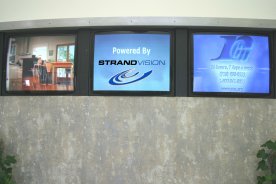 Video messaging, also referred to as digital signage, narrowcasting, datacasting, digital in-store merchandising, retail television, electronic messaging, captive audience networks, digital messaging, electronic billboards or other terms, is normally installed on premises and requires investments in time and equipment. Online-Kiosks.net's hosted approach requires only an Internet connection since subscribers create and maintain their individualized sites on Online-Kiosks.net remote servers.
Commented Vicki Hoehn, executive vice president of Royal Credit Union, "We've been running Online-Kiosks.net displays in our lobby and at our drive-ups for months. It's easy to access and use, affordable, and flexible. I haven't seen anything like this out in the marketplace and, most importantly, our members are getting valuable information about our products, services and community contributions."
Online-Kiosks.net supports a number of businesses and applications:
Banks and credit unions to promote interest rates, new products, local events and other benefits to customers in their branches or drive-up windows
Restaurants to publish their daily specials, new items, stellar employees, winners of business card drawings, upcoming specials
Grocery and retail stores to publish new items, specials, combined purchase savings, total member savings for the day, week or month, and to present sponsored ads from vendors
Service centers to promote additional services, vehicle maintenance reminders, average wait times, technician of the month
Emergency room, hospital, doctor, chiropractor and other medical facilities waiting rooms to discuss health tips, insurance coverage, doctor specialties and standard procedures that are common for most visits
Hotels to welcome new guests, advertise additional services, present meeting room schedules and offer meeting room directions
Health clubs to promote renewal specials, upcoming events, recent member level advancements and awards, policy changes and upcoming service changes
Employee communications in lobbies, break rooms, etc. to give information on benefits, sales, units sold, progress on goals, stellar employees, new customers, new products and visitors.
"Online-Kiosks.net couldn't be simpler," commented Mike Strand, founder and CEO. "We handle all the infrastructure and technology. All the employees or customers see is an attractive rolling presentation that gives them the information businesses want to communicate. It's inexpensive, easy to set up, and simple to maintain."
Free trial
Online-Kiosks.net is offering a free trial which enables companies to deploy test displays. The templated trial make it easy to set up customized messages in a matter of minutes.
Information categories included in the free trial are:
Company contact information
Company mission statement
Company logo
Localized time and weather (current, forecast and radar)

Photos and graphics
Price promotions
Scrolling and crawling messages
Paid subscriptions enable a larger number of informational slides and greater design flexibility, as well as deployment to a larger number of display terminals. Enhanced services, such as location-specific displays managed from a single location and streaming video, are also available.
Pricing and availability
The Online-Kosks.net trial is absolutely free – no credit card information is even requested. Video messaging subscription pricing starts at $54.95 per month with an annual subscription, and includes support for two displays and up to 50 pages of information. Additional pages, locations and enhanced services are also available. Consulting and design services are also available from StrandVision, LLC. (See http://www.online-kiosks.net/?pricing.) Online-Kiosks.net is available immediately by visiting www.online-kiosks.net. In addition to direct sales over the Internet, Online-Kiosks.net will be offered through both affiliate and reseller programs.

About Online-Kiosks.Net
Online-Kiosks.Net, based in Eau Claire, Wis., is the latest venture of Mike Strand, founder and CEO, who previously founded StrandWare Inc., one of the leading providers of bar coding and data capture software. Online-Kiosks.Net is dedicated to finding innovative ways for businesses to solve everyday challenges. Online-Kiosks.net fulfills this mission by providing low-cost, high-availability hosted video messaging services that can be implemented quickly and easily by a wide range of companies.
Additional information about Online-Kiosks.net is available at www.Online-Kiosks.net, or mjstrandweb at StrandVision.com.
###
All trademarks are the property of their respective owners.
EDITORS: For further information:
Mike Strand
StrandVision Digital Signage
6595 South Shore Drive
Altoona, WI 54720-2386
715-235-SIGN (7446)
mjstrandweb at StrandVision.com