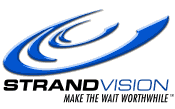 FOR IMMEDIATE RELEASE
MENOMONIE, Wis. - Aug. 13, 2014 - StrandVision Digital Signage today announced a visitor and employee communication enhancement that highlights new pages and updates to existing pages with color-coded borders in order to alert viewers that new digital signage content is being displayed. The user-configurable feature is available at no cost to all StrandVision Digital Signage subscribers, as well as free digital signage test drive participants.
"Keeping electronic signage content updated and fresh is the best way to engage viewers," commented Mike Strand, StrandVision founder and CEO. "For those companies with minimum posting time policies or limited administration time, some of our subscribers suggested that we develop a way to highlight new digital signage content to alert their viewers that they were seeing something for the first time. We developed the New Content Highlight Border to not only call attention to the new content but gradually fade the color over the user-specified number of days or hours."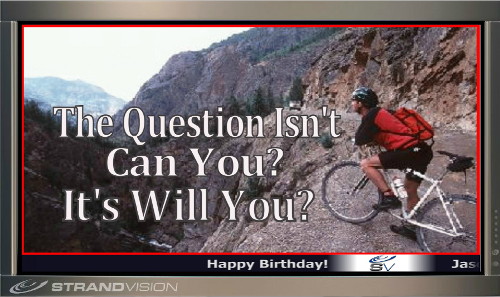 The feature automatically adds a red New Content Highlight Border to the pages and/or frames when additions or changes are made to the digital signage page mix; the border fades through to yellow and then disappears after three days under the default setting. Subscriber administrators at the Intermediate or Advanced levels can disable the feature or change their default New Content Highlight Time setting to a number of interim times ranging from one-half hour up to two weeks.
Three Levels of Control
StrandVision's Content Management System (CMS) portal offers three user levels - Beginner, Intermediate and Advanced - that vary the number of choices presented to the administrators as they post pages, graphics and text. This approach provides a comfortable experience for new users enabling them to easily and quickly publish attractive, impactful digital signage.
As they become more experienced using StrandVision's portal they can change their level in order to be presented with additional design choices that offer them more flexibility and control over the digital signage presentation. For instance, Advanced users can control text (reading) speed, page transitions and other presentation aspects, as well as perform signage monitoring and automatic player reboots. Administrators can change their own levels at any time on the StrandVision portal at no additional cost.
About StrandVision
StrandVision LLC, based in Menomonie, Wis., delivers low-cost, cloud-based digital signage software content to subscribers' digital media player displays, as well as computer screens, websites and mobile devices. StrandVision's patented approach distributes customer created text, graphics, videos, RSS/social media feeds along with pre-packaged worldwide, national and local weather and news. It is ideal for many business marketing applications for waiting rooms (patient and customer information); banks and retailers (video merchandising); education (student, staff and visitor information); business and industrial settings (employee communication and operational/performance information); as well as nonprofit and religious organizations (member and supporter communication).
StrandVision also offers supporting digital signage hardware including PC-2-TV.net, a fully digital, high-definition (HD) video extender for long distance multi-screen distribution, Linux digital media players to ease and optimize electronic signage network installation and several large-format displays including freestanding pedestal displays. StrandVision Digital Signage services, installation and equipment are available directly from StrandVision and through registered affiliates and system integrators. Additional information about StrandVision Digital Signage is available at StrandVision.com, 715-235-SIGN (7446) or by emailing sales at StrandVision.com.
###
Names may be trademarks of their respective owners.
EDITORS: For further information:
Mike Strand
StrandVision Digital Signage
6595 South Shore Drive
Altoona, WI 54720-2386
715-235-SIGN (7446)
mjstrandweb at StrandVision.com