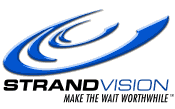 FOR IMMEDIATE RELEASE
MENOMONIE, Wis. - Oct. 08, 2014 - StrandVision Digital Signage today introduced a new way for electronic signage administrators to share specific electronic signage content over multiple digital signage players across their network. The feature is especially handy for multiple site installations, corporations and franchises that want to share single or multiple content pages that can optionally be displayed on their local networks.
For instance, a fast food chain that is offering an opt-in price promotion to its franchisees can distribute optional StrandVision Digital Signage promotion pages for local management to use for its in-store advertising; a company with multiple sites can offer a selection of employee benefit, safety, motivational or other employee communication digital signage messaging to its divisions for addition to local digital signage networks at the discretion of local management. Once the page is copied as designed by the sender, it can be further customized to the individual location, as desired.
"StrandVision has long offered the ability for top-level administrators to automatically distribute pages, including videos directly to sub-networks across their corporate and local networks," explained StrandVision founder and CEO, Mike Strand. "This new level of local control and flexibility provides a quick and easy way for local administrators to optionally add customized corporate content to their digital signage networks with a single click. And it's not just for what is shown on the digital signage player. The page sharing feature includes all background settings so dynamic information is displayed and scheduled to play exactly as designed on the original."
Here's How It Works
Now, when StrandVision Digital Signage administrators create any type of page on the StrandVision Content Management System (CMS) portal a unique URL is automatically created and placed in the "Share Page Link" field on the page creation form. The administrator simply copies the URL and sends it to recipients in an email, phone message, Tweet or through other social media.
The recipients simply click on the URL. That takes them to the StrandVision cloud server where they log into their account on the StrandVision CMS portal and the new page is automatically copied to the local mix where it can be further edited or reordered, as desired. Shared pages support dynamic visitor or employee communication information such as changing images and scrolling text, and can include RSS feeds, audio, video, animation, Web feeds, Quick Response (QR) codes and other dynamic information sources such as automatic birthday and anniversary people displays and live corporate database access.
The shared page also includes all other metadata, including background media, scheduling (frequency, automatic removal date) and other administrative instructions.
The Share Pages feature is available immediately to all StrandVision Digital Signage subscribers, as well as StrandVision Free Digital Signage Test Drive participants. Learn more by checking out the introductory YouTube video at http://www.strandvision.com/video_digital_signage_content_sharing.html or calling 715-235-7446 or emailing sales at StrandVision.com.
About StrandVision
StrandVision LLC, based in Menomonie, Wis., delivers low-cost, cloud-based digital signage software content to subscribers' digital media player displays, as well as computer screens, websites and mobile devices. StrandVision's patented approach distributes customer created text, graphics, videos, RSS/social media feeds along with pre-packaged worldwide, national and local weather and news. It is ideal for many business marketing applications for waiting rooms (patient and customer information); banks and retailers (video merchandising); education (student, staff and visitor information); business and industrial settings (employee communication and operational/performance information); as well as nonprofit and religious organizations (member and supporter communication).
StrandVision also offers supporting digital signage hardware including PC-2-TV.net, a fully digital, high-definition (HD) video extender for long distance multi-screen distribution, Linux digital media players to ease and optimize electronic signage network installation and several large-format displays including freestanding pedestal displays. StrandVision Digital Signage services, installation and equipment are available directly from StrandVision and through registered affiliates and system integrators. Additional information about StrandVision Digital Signage is available at StrandVision.com, 715-235-SIGN (7446) or by emailing sales at StrandVision.com.
###
Names may be trademarks of their respective owners.
EDITORS: For further information:
Mike Strand
StrandVision Digital Signage
6595 South Shore Drive
Altoona, WI 54720-2386
715-235-SIGN (7446)
mjstrandweb at StrandVision.com