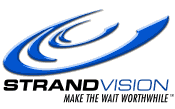 FOR IMMEDIATE RELEASE
MENOMONIE, Wis. - Feb. 1, 2012 - StrandVision Digital Signage today announced a custom programming service that enables its customers to automatically import virtually any live data feed into its digital signage display. Dynamic business marketing information, manufacturing production or safety performance information, bank interest rates or stock prices, or even conference room listings in hotels can be automatically updated, formatted and displayed through the StrandVision Digital Signage software.
Custom Applications
The process begins with a free digital signage consultation with a StrandVision engineer that explores StrandVision's free pre-packaged, built-in database and RSS feed integration capabilities. If the solutions that are included with the standard StrandVision Digital Signage service are not appropriate, the engineer will discuss alternative, custom FTP, XML, HTML or other data access programming approaches.
The StrandVision engineer will then work with the customer's IT staff on an hourly basis to develop the interface that will conform to the customer's data security protocols. StrandVision will also design a custom template to display the information as part of the customer's page mix.
"This service makes StrandVision Digital Signage even more flexible and valuable since it eliminates the need to manually update frequently changing live data," said Mike Strand, StrandVision founder and CEO. "We've built a lot of the hooks into our software so we can efficiently and cost-effectively develop these custom data feeds quickly. It's the fastest way to securely access corporate data for display on one digital signage player or a worldwide deployment of digital signage screens."
The custom data feed service is available immediately. The initial consultation is free. Development programming is on an hourly basis; typical development projects take only a few hours and often are under one hour.
About StrandVision
StrandVision LLC, based in Menomonie, Wisconsin, delivers low-cost, Web-based digital signage software through a patented Software as a Service (SaaS) approach that delivers content to subscribers' LCD flat panel screens, as well as computer screens and websites. StrandVision's service distributes text and graphics pages, video content and national and local weather and news. It is ideal for many large and small business marketing applications, including medical and dental offices (patient education); banks, retailers and industrial distributors (video merchandising); education (student communication, staff and visitor information); employee break rooms (employee communication of events and benefits); non-profit and religious organizations (member and supporter communication).
StrandVision also offers PC-2-TV.net, a fully digital, high-definition (HD) video extender to connect a computer to a television over long distances for use with digital signage and many other applications. StrandVision Digital Signage services and PC-2-TV.net are available directly from StrandVision and through registered affiliates and system integrators. Additional information about StrandVision Digital Signage is available at StrandVision.com, by calling or emailing sales at StrandVision.com.
###
All trademarks are the property of their respective owners.
EDITORS: For further information:
Mike Strand
StrandVision Digital Signage
6595 South Shore Drive
Altoona, WI 54720-2386
715-235-SIGN (7446)
mjstrandweb at StrandVision.com