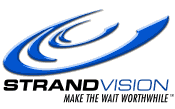 FOR IMMEDIATE RELEASE
MENOMONIE, Wis. - April 8, 2010 - StrandVision LLC today announced that Patent #7,685,259, entitled "Locally responsive kiosk signage from on-line source," was granted on March 23, 2010 to Michael J. Strand, the company's founder, president and CEO.
The patent covers displayed content of digital signage at distant locations that is at least partially controlled by a processor and database at a central location. The processing system collects, samples and evaluates general information to determine what specific information should be displayed on local signage.
This technology enables StrandVision to deliver its highly scalable and flexible Internet-based, Software as a Service (SaaS) digital signage service to viewers around the world. Customers are able to easily and efficiently direct specific, localized content to a digital signage display or group of displays using StrandVision's Administrator Console. The system also provides for additional signage content to be selected by the server based on general parameters setup by the user.
StrandVision is licensing the patented technology to providers of distributed digital signage services. Interested parties should contact StrandVision at or email sales at StrandVision.com.
About StrandVision
StrandVision LLC delivers low-cost, Web-based SaaS digital signage through a patented approach that delivers content to subscribers' LCD and plasma displays, as well as computer screens and Web sites. StrandVision's service distributes text and graphics pages, video content, and national and local weather and news. It is ideal for medical and dental offices (patient education), banks, retailers and industrial distributors (video merchandising), education (student, staff and visitor information), employee break rooms (events and benefits), non-profit and religious organizations (member and supporter communications), and other applications.
StrandVision also offers PC-2-TV.net (http://www.pc-2-tv.net), a fully digital, high-definition (HD) personal computer-to-television adapter for use with digital signage and many other applications.
StrandVision Digital Signage services and PC-2-TV.net are available directly from StrandVision and through registered affiliates and system integrators (http://www.strandvision.com/?digital_signage_installers). Additional information about StrandVision is available at www.strandvision.com, by calling or emailing sales at StrandVision.com.
###
All trademarks are the property of their respective owners.
EDITORS: For further information:
Mike Strand
StrandVision Digital Signage
6595 South Shore Drive
Altoona, WI 54720-2386
715-235-SIGN (7446)
mjstrandweb at StrandVision.com