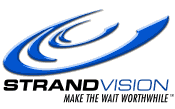 FOR IMMEDIATE RELEASE
EAU CLAIRE, Wis. - Feb. 13, 2006 - StrandVision LLC (www.strandvision.com), a provider of hosted digital signage services, today announced a significant upgrade to its player that receives digital signage content at customer sites over the Internet. The player increases redundancy and local caching to enhance reliability. In the same vein, StrandVision put an additional server into service to meet the demands of its growing customer base.
StrandVision takes a radical new approach to digital signage. Rather than require expensive and complex on-site installations, StrandVision hosts digital signs on its servers and delivers signage content over the Internet directly to local personal computers for showing over local computer monitor, flat screen or television displays. In this way, single location companies or multi-branch businesses, such as offices, banks, distributorships, medical providers and other organizations, can economically deliver the same or regionalized messages to multiple locations at a fraction of the cost of more complex systems. StrandVision adds local weather and news to further personalize the service to each individual location.
StrandVision's digital media player is the software "receiver" at customer sites that accesses and displays StrandVision Digital Signage information. The new player automatically communicates with a primary server and rolls over to two backup servers in the event of an interruption. It further assures consistency and uninterrupted signage presentation by preloading pages while others are being displayed. It also uses previously downloaded information when the Internet is slow or entirely disconnected.
The new server, capable of supporting over 12,000 customers, enhances speed, stability and security. It will also provide additional capabilities and serve as a platform for planned future enhancements to the StrandVision Digital Signage network.
"The new server and digital media player are direct results of the tremendous response that we've had to StrandVision Digital Signage," stated Mike Strand, StrandVision founder and CEO. "Our customers are thrilled with our hosted service, yet, by adding this technology, we are making our offering wider and deeper. We'll continue to enhance our infrastructure as we grow and as our customers discover new ways to use our digital signs."
About StrandVision
StrandVision LLC, previously Online-Kiosks (http://www.online-kiosks.net), uses a Web services model to deliver low-cost, high-availability hosted digital signage services to businesses. It is ideal for medical and dental offices (patient education), banks (video merchandising), industrial distributors (vendor-sponsored advertising), employee break rooms (events and benefits) and other business applications. StrandVision eliminates the need for complex and expensive onsite hardware since it hosts the digital signage service on its servers and delivers content directly over the Internet via standard Web browser technology to televisions and computer displays in subscribers' offices and businesses. StrandVision's easy-to-setup and easy-to-update Web-based service enables administrators to maintain and quickly distribute text messages and graphics, including advertisements and video content. StrandVision enhances each company's customized content with national and local weather and news, stocks and other information of interest. Additional information about StrandVision and a free trial subscription are available at www.strandvision.com, or by calling or emailing sales at StrandVision.com.
###
All trademarks are the property of their respective owners.
EDITORS: For further information:
Mike Strand
StrandVision Digital Signage
6595 South Shore Drive
Altoona, WI 54720-2386
715-235-SIGN (7446)
mjstrandweb at StrandVision.com
More information: http://www.prweb.com/releases/2006/2/prweb345236.htm