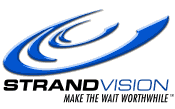 FOR IMMEDIATE RELEASE
MENOMONIE, Wis. – June 25, 2013 – StrandVision Digital Signage has enhanced its free digital signage "proof of playback" feature for its electronic signage customers. Proof of playback enables StrandVision Digital Signage subscribers to record, collect and analyze both the display frequency and duration of selected digital signage content pages, images, database records and videos. The enhancements include easier tracking selection for administrators and addititonal reporting capabilities.
The feature is ideal for companies and organizations that sell advertising on their digital media player displays that want or need to audit pages in order to certify that the particular digital signage content has been displayed, as well as for billing purposes.
Proof of playback is also valuable for employee communication of benefits and other human resources announcements to certify that necessary information is shared with employees during enrollment periods and to ensure that other regulatory or contractual communications requirements are met. Business marketing applications in specific industries, such as real estate, enable agents to let clients know the broadcast frequency of their listings as part of their overall marketing campaigns.
The proof of playback free digital sign feature is easy to use. After creating a page on StrandVision's Content Management System (CMS) the administrator simply goes to the proof of playback area on the site and selects the digital signage content to be tracked. The StrandVision system immediately begins tabulating the display data for the selected information. In addition to electronic signage pages, specific images, videos and user defined database records can also be tracked.
For large electronic sign networks with multiple groups of display screens, proof of playback can be set to report page displays by group. Proof of playback also tracks page frequency on the customer's website if the system is set to take advantage of this free digital signage display capability.
Reports can be viewed on the StrandVision content management portal and the raw data can also be downloaded as source data for invoices, graphs, presentations and reports.
"Our customers tell us that the proof of playback capability is a helpful tool to generate revenue from their digital media networks," said Mike Strand, StrandVision founder and CEO. "It's also a way for them to fully realize the potential of their StrandVision Digital Signage to support advertising and become an integral part of their overall employee communications mix. We're sure that our customers will find many other creative ways to use the power of the proof of playback feature."
Proof of playback is available immediately as a free digital signage capability for all StrandVision Digital Signage subscribers with streaming video and higher packages.
About StrandVision
StrandVision LLC, based in Menomonie, Wis., delivers low-cost, Web-based digital signage software through a patented Software as a Service (SaaS) approach that delivers content to subscribers' LCD flat panel screens, as well as computer screens, websites and mobile devices. StrandVision's service distributes text and graphics pages, video content and national and local weather and news. It is ideal for many large and small business marketing applications, including medical and dental offices (patient education); banks, retailers and industrial distributors (video merchandising); education (student communication, staff and visitor information); employee break rooms (employee communication of events and benefits); nonprofit and religious organizations (member and supporter communication).
StrandVision also offers
PC-2-TV.net
, a fully digital, high-definition (HD)
video extender
to connect a computer to a television over long distances for use with digital signage and many other applications. StrandVision Digital Signage services and PC-2-TV.net are available directly from StrandVision and through registered affiliates and
system integrators
. Additional information about StrandVision
Digital Signage
is available at
StrandVision.com
, by calling or emailing
sales at StrandVision.com
.
###
All trademarks are the property of their respective owners.
EDITORS: For further information:
Mike Strand
StrandVision Digital Signage
6595 South Shore Drive
Altoona, WI 54720-2386
715-235-SIGN (7446)
mjstrandweb at StrandVision.com