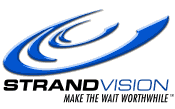 FOR IMMEDIATE RELEASE
MENOMONIE, Wis. - Oct. 25, 2011 - StrandVision Digital Signage today unveiled a new screen saver capability for StrandVision Digital Signage networks that extends companies' signage networks to employees' desktops to further reinforce employee communication messaging.
Designed to bring corporate announcements directly to employees, it is ideal for human resources communications of employee benefits, reinforcement of corporate goals/missions, general business marketing, news and events or special announcements, such as weather-related bulletins. Compatible with Microsoft Windows operating systems, the screen saver application plays the same content that streams over customers' StrandVision Digital Signage network on digital signage player screens throughout a facility and internal and external websites.
"This is a powerful and efficient way to consistently communicate with employees and visitors," commented Mike Strand StrandVision founder and CEO. "The StrandVision Digital Signage Screen Saver enables companies to get the most out of their digital signage networks by utilizing existing equipment that is temporarily inactive. We've designed a system that fits with corporate networking and computer management protocols while substantially extending the reach of the digital signage network for employee communication and business marketing opportunities."
The application can be distributed in the same manner that other standard corporate applications are deployed. Once installed on an employee's personal computer, the application becomes a dropdown selection in the Screen Saver Settings dialog and works the same way as any other screen saver.
StrandVision Digital Signage Screen Saver content is distributed over companies' standard computer networks. A StrandVision preconfigured, on-premise server or Linux signage player is required for installations of more than 10 computers, which reduces subscription costs and network traffic while increasing efficiency. Pricing starts at $499 per year and goes as low as $.17 per desktop per month for larger installations. The StrandVision Digital Signage Screen Saver is available immediately from StrandVision and through authorized resellers.
About StrandVision
StrandVision LLC, based in Menomonie, Wisconsin, delivers low-cost, Web-based digital signage software through a patented Software as a Service (SaaS) approach that delivers content to subscribers' LCD flat panel screens, as well as computer screens and websites. StrandVision's service distributes text and graphics pages, video content and national and local weather and news. It is ideal for many large and small business marketing applications, including medical and dental offices (patient education); banks, retailers and industrial distributors (video merchandising); education (student communication, staff and visitor information); employee break rooms (employee communication of events and benefits); non-profit and religious organizations (member and supporter communications).
StrandVision also offers PC-2-TV.net, a fully digital, high-definition (HD) video extender to connect a computer to a television over long distances for use with digital signage and many other applications.
StrandVision Digital Signage services and PC-2-TV.net are available directly from StrandVision and through registered affiliates and system integrators. Additional information about StrandVision Digital Signage is available at www.StrandVison.com, or emailing sales at StrandVision.com.
###
All trademarks are the property of their respective owners.
EDITORS: For further information:
Mike Strand
StrandVision Digital Signage
6595 South Shore Drive
Altoona, WI 54720-2386
715-235-SIGN (7446)
mjstrandweb at StrandVision.com