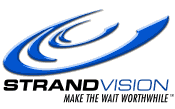 FOR IMMEDIATE RELEASE
EAU CLAIRE, Wis. - July 17, 2007 - Eau Claire Ford Lincoln Mercury is seeing early success with their new digital signage system from StrandVision LLC. The dealership installed a large-format LCD screen in its service waiting area that displays regular television programming bordered by StrandVision Digital Signage information that promotes Eau Claire Ford Lincoln Mercury's service and parts offerings, as well as new and used cars.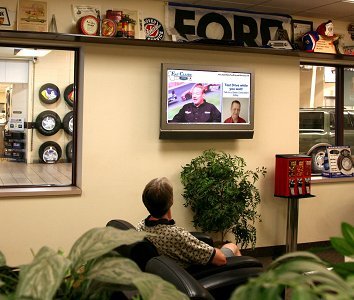 The digital sign has proven to be a powerful new sales tool. "Sitting in the waiting room is dead time," commented Sherry Mohr, Eau Claire Ford Lincoln Mercury marketing director. "StrandVision lets us keep the regular television programs that come in over the satellite while, at the same time, promoting the dealership. We tell customers about our service packages, let them know they can buy accessories, like running boards or floor mats, and we even invite them to take a test drive while they're waiting. We sold a new Mercury Milan to a couple who was waiting for scheduled services on their F150 truck as a direct result of an invitation on the digital sign."
The digital signage setup uses a split-screen layout with 2/3 of the screen dedicated to regular TV shows that come in over the dealership's satellite receiver. A top banner and 1/3 of the rest of the screen is reserved for Eau Claire Ford Lincoln Mercury information. In addition to product promotions, the dealership also features photos of its employees and customers, as well as announcements of upcoming events. Frequently updated local weather and news are also part of the digital signage rotation.
"This is a really innovative use of our digital signage," said Mike Strand, StrandVision founder and CEO. "Placing television programming and digital signage information onto a single screen is a powerful combination. Sherry's digital signage installation is entertaining, informative and directly increases sales. We know that this model will work for many other car dealerships and other businesses that use digital signs to communicate with customers."
About StrandVision
StrandVision LLC, previously Online-Kiosks, delivers low-cost, high-availability hosted digital signage services through a patent-pending, Internet-based approach that eliminates the need for complex and expensive onsite hardware. It delivers content directly to subscribers' televisions, including LCD and plasma displays, and computer screens. StrandVision's Web-based service makes it easy to set up, maintain and quickly distribute text messages and graphics, including advertisements, video content, and national and local weather and news. It is ideal for medical and dental offices (patient education), banks, retailers and industrial distributors (video merchandising), employee break rooms (events and benefits), non-profit and religious organizations (client and supporter communications), and other applications. StrandVision Digital Signage services are available directly from StrandVision and through registered affiliates and system integrators (
www.strandvision.com/digital_signage_installers.html
). Additional information about StrandVision and a free trial subscription are available at
www.strandvision.com
, by calling or emailing
sales at StrandVision.com
.
###
All trademarks are the property of their respective owners.
EDITORS: For further information:
Mike Strand
StrandVision Digital Signage
6595 South Shore Drive
Altoona, WI 54720-2386
715-235-SIGN (7446)
mjstrandweb at StrandVision.com