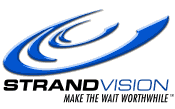 FOR IMMEDIATE RELEASE
MENOMONIE, Wis. - Aug. 27, 2014 - StrandVision Digital Signage today introduced an enhanced "People" database import capability to enable its subscribers to easily add and edit pages that feature employees, associates, members and visitors using various digital signage reporting options that automatically select and display people based on the birthday or anniversary dates assigned to each person.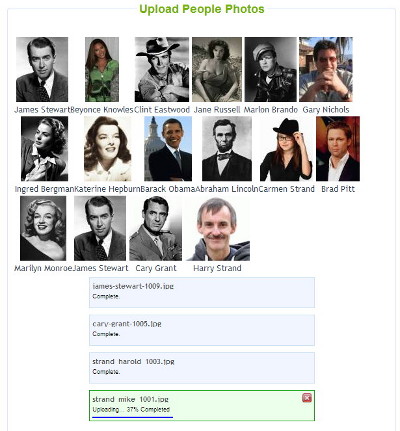 The new facility accepts information, including birthday and anniversary dates, descriptive sentences/paragraphs and other information from any data source that can be formatted into comma-separated (.csv) lists. Photos, such as portraits, images submitted by employees, awards or other graphics that include the individual's ID information in the file name can be bulk uploaded at any time and automatically assigned to the appropriate person.
"We've been providing integrated corporate payroll database import services on a custom consulting basis for our large corporate customers for some time," explained Mike Strand, StrandVision founder and CEO. "Now we've extended the import capability at no cost to our entire user base. Anyone who has employee, member or other people information in a spreadsheet or other database system can export to the appropriate format and automatically create customized digital signage content pages to enhance employee communications by featuring major milestones as defined in the database."
From databases to spreadsheets and lists
Now, information from large corporate databases, small business accounting systems, Excel and other programs, including properly formatted mobile contact lists, can be easily imported and updated in the StrandVision Digital Signage system on an ad hoc or scheduled basis. Individual people can also be added or edited through the system for minor changes.
The new People capability has already been added as a selection on StrandVision's Content Management System (CMS) portal. Subscribers simply log into their accounts and make the People database changes under the "Your Account" tab, adding a "People Database" page type to their page mix and selecting the appropriate report type and selection time period. Data changes to the source database/document are easily updated on the digital signage display pages. See our video showing how easy it is to add People pages at: http://www.strandvision.com/video_import_people.html
StrandVision continues to offer data integration consulting services for totally automated updates from payroll or other corporate systems.
About StrandVision
StrandVision LLC, based in Menomonie, Wis., delivers low-cost, cloud-based digital signage software content to subscribers' digital media player displays, as well as computer screens, websites and mobile devices. StrandVision's patented approach distributes customer created text, graphics, videos, RSS/social media feeds along with pre-packaged worldwide, national and local weather and news. It is ideal for many business marketing applications for waiting rooms (patient and customer information); banks and retailers (video merchandising); education (student, staff and visitor information); business and industrial settings (employee communication and operational/performance information); as well as nonprofit and religious organizations (member and supporter communication).
StrandVision also offers supporting digital signage hardware including PC-2-TV.net, a fully digital, high-definition (HD) video extender for long distance multi-screen distribution, Linux digital media players to ease and optimize electronic signage network installation and several large-format displays including freestanding pedestal displays. StrandVision Digital Signage services, installation and equipment are available directly from StrandVision and through registered affiliates and system integrators. Additional information about StrandVision Digital Signage is available at StrandVision.com, 715-235-SIGN (7446) or by emailing sales at StrandVision.com.
###
Names may be trademarks of their respective owners.
EDITORS: For further information:
Mike Strand
StrandVision Digital Signage
6595 South Shore Drive
Altoona, WI 54720-2386
715-235-SIGN (7446)
mjstrandweb at StrandVision.com