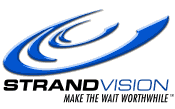 FOR IMMEDIATE RELEASE
MENOMONIE, Wis. - July 24, 2013 - StrandVision Digital Signage today introduced a new online PowerPoint 97 and higher (PPT & PPTX) to graphic (JPG) conversion service available on-demand to the public. The free service, hosted by StrandVision, enables users to convert individual PowerPoint slides or entire presentations into higher-quality JPG files than is available through built-in PowerPoint conversion utilities. The service enables users to create basic, free digital signage content for flat screen televisions and digital photo frames, which typically cannot display PowerPoint loops but can automatically browse photos.
"Throughout our ten years we've heard from people who want to 'stick their toe' into digital signage before making a financial commitment," commented Mike Strand, StrandVision founder and CEO. "For those folks we've created our 30-day free digital signage trial. But some people have small toes and want to experiment with a more basic approach for the long term. This new conversion service meets that need. No registration, no cost, no hassle - just a basic display system that uses existing TVs and digital photo frames with digital media playback capability.
"We feel that giving people this free electronic signage solution will introduce them to the power and revenue growth offered by digital signage and may lead to an upgrade to a full-blown StrandVision Digital Signage system when they're ready for the maintenance free, easy-to-update dynamic content that our solution provides."
Quick, easy conversions
To take advantage of this service users simply visit the StrandVision conversion page at http://www.strandvision.com/free_digital_signage_powerpoint_converter.html. There they are asked for their name and email address - there is no registration, credit card or other information required. They upload the PowerPoint file and usually within 10 minutes an email is sent with instructions on how to download and use the ZIP file of the JPG versions of the slides.
Once downloaded, they simply copy the images to a USB drive and insert it into the USB slot of an appropriately configured television, digital photo frame, PC or tablet to play the slide loop. The digital signage pages are "snapshots" of the PPT pages and do not include builds, videos and other animations. Dissolves and fades are governed by the capabilities of the digital media display units.
The service is also available to people who simply want to convert PowerPoint slides to JPGs for other purposes, such as for inclusion in printed materials, posters or other applications that require higher quality graphics.
About StrandVision
StrandVision LLC, based in Menomonie, Wis., delivers low-cost, Web-based digital signage software through a patented Software as a Service (SaaS) approach that delivers content to subscribers' LCD flat panel screens, as well as computer screens, websites and mobile devices. StrandVision's service distributes text and graphics pages, video content and national and local weather and news. It is ideal for many large and small business marketing applications, including medical and dental offices (patient education); banks, retailers and industrial distributors (video merchandising); education (student communication, staff and visitor information); employee break rooms (employee communication of events and benefits); nonprofit and religious organizations (member and supporter communication).
StrandVision also offers
PC-2-TV.net
, a fully digital, high-definition (HD)
video extender
to connect a computer to a television over long distances for use with digital signage and many other applications. StrandVision Digital Signage services and PC-2-TV.net are available directly from StrandVision and through registered affiliates and
system integrators
. Additional information about StrandVision
Digital Signage
is available at
StrandVision.com
, by calling or emailing
sales at StrandVision.com
.
###
All trademarks are the property of their respective owners.
EDITORS: For further information:
Mike Strand
StrandVision Digital Signage
6595 South Shore Drive
Altoona, WI 54720-2386
715-235-SIGN (7446)
mjstrandweb at StrandVision.com