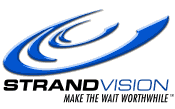 FOR IMMEDIATE RELEASE
MENOMONIE, Wis. - Aug. 24, 2009 - StrandVision LLC today announced that it is giving away a complete StrandVision Digital Signage system that includes a one-year StrandVision Digital Signage software subscription, a personal computer and display. Total system value is $3,000.
Participants can enter the drawing simply by completing a Test Drive for the free digital signage software on the StrandVision Web site. Once the Test Drive is completed and saved, the participant is automatically registered for the drawing.
"The Take a Test Drive drawing is a great opportunity for people interested in digital signage for their companies or organizations to be introduced to StrandVision Digital Signage software and possibly save a few bucks as we ride through this bumpy economy," commented Mike Strand, StrandVision founder and CEO. "They'll get to experience the ease of use and cost effectiveness of our Internet-based digital signage service. StrandVision Digital Signage is perfect for small and large organizations, so we encourage participants from single- and multi-location operations, as well as departments in large organizations, to enter the drawing."
The prize includes a one-year StrandVision Streaming Video digital signage software subscription, a personal computer (AMD Athlon X2 4200, 1GB memory, 250MB hard drive, HD audio, Windows XP) and a 28" High Definition (HD) High Definition Multimedia Interface (HDMI) LCD display. The system requires a user-supplied dedicated internet connection.
The Take a Test Drive promotion runs through September 30, 2009 at 5:00 p.m. (Central). The drawing will be held on October 1, 2009. Rules are available on the StrandVision site at the free digital signage software signup location.
About StrandVision
StrandVision LLC delivers low-cost, Web-based Software as a Service (SaaS) digital signage through a patent-pending approach that delivers content to subscribers' LCD and plasma displays, as well as computer screens and Web sites. StrandVision's service distributes text and graphics pages, including advertisements, video content, and national and local weather and news. It is ideal for medical and dental offices (patient education), banks, retailers and industrial distributors (video merchandising), employee break rooms (events and benefits), non-profit and religious organizations (member and supporter communications), and other applications.
StrandVision also offers PC-2-TV.net, a fully digital, high-definition (HD) personal computer-to-television adapter for use with digital signage and many other applications.
StrandVision Digital Signage services and PC-2-TV.net are available directly from StrandVision and through registered affiliates and system integrators (
http://www.strandvision.com/?digital_signage_installers
). Additional information about StrandVision is available at
http://www.strandvision.com
, by calling or emailing
sales at StrandVision.com
.
###
All trademarks are the property of their respective owners.
EDITORS: For further information:
Mike Strand
StrandVision Digital Signage
6595 South Shore Drive
Altoona, WI 54720-2386
715-235-SIGN (7446)
mjstrandweb at StrandVision.com