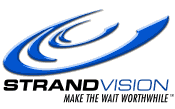 FOR IMMEDIATE RELEASE
MENOMONIE, Wis. - Feb. 26, 2013 - StrandVision Digital Signage today announced the ability to incorporate events scheduling information directly into its digital signage software. The new feature works with most events management software products including Delphi and can be customized to support proprietary and in-house developed meeting and event scheduling and sales systems.
The events scheduling integration is attractive to hotels and convention centers, restaurants and function halls, and even houses of worship and schools. It was initially developed for the proprietary sales application for one of the top ten global hotel chains. As part of the implementation process, StrandVision worked directly with the customer's IT staff to develop and to receive certification for the interface that the digital signage cloud servers use to access the information in real time.
The StrandVision events scheduling digital signage software is easy to use. Once the interface is developed, StrandVision subscribers simply select the reader board capability on the StrandVision Content Management System (CMS) dashboard to have the events information displayed on their digital media players in a variety of formats showing all events for the day or only those that occur in the future or are currently in session.
The scheduling information can be added to other promotional or informational digital signage content mixes or drive room-specific displays. With the split-screen capability of the Streaming Video package, events can be displayed at all times while other business marketing material appears in other regions of the digital signage player screens. The StrandVision interface cuts down on administrative time required to post meeting information on multiple systems and also increases accuracy and timeliness.
"StrandVision Digital Signage can import room and events schedules from most events management software packages," said Mike Strand, StrandVision founder and CEO. "We have global customers that are using the capability for both back-of-house employee communication and front-of-house customer-facing business marketing and room notices."
About StrandVision
StrandVision LLC, based in Menomonie, Wis., delivers low-cost, Web-based digital signage software through a patented Software as a Service (SaaS) approach that delivers content to subscribers' LCD flat panel screens, as well as computer screens, websites and mobile devices. StrandVision's service distributes text and graphics pages, video content and national and local weather and news. It is ideal for many large and small business marketing applications, including medical and dental offices (patient education); banks, retailers and industrial distributors (video merchandising); education (student communication, staff and visitor information); employee break rooms (employee communication of events and benefits); nonprofit and religious organizations (member and supporter communication).
StrandVision also offers
PC-2-TV.net
, a fully digital, high-definition (HD)
video extender
to connect a computer to a television over long distances for use with digital signage and many other applications. StrandVision Digital Signage services and PC-2-TV.net are available directly from StrandVision and through registered affiliates and
system integrators
. Additional information about StrandVision
Digital Signage
is available at
StrandVision.com
, by calling or emailing
sales at StrandVision.com
.
###
All trademarks are the property of their respective owners.
EDITORS: For further information:
Mike Strand
StrandVision Digital Signage
6595 South Shore Drive
Altoona, WI 54720-2386
715-235-SIGN (7446)
mjstrandweb at StrandVision.com