FOR IMMEDIATE RELEASE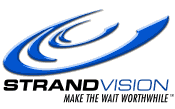 EAU CLAIRE, Wis. - Jan. 2, 2006 - StrandVision LLC (http://www.strandvision.com), a provider of hosted digital signage services, today announced that Group Health Cooperative of Eau Claire has selected StrandVision to provide a digital information display for its Group Health Dental office in Eau Claire. The digital sign presents information to patients in the waiting area.
We are constantly looking for ways to better inform our patients about our services and proper dental care," said Bobbi Potter, Group Health Dental clinic manager. "This innovation will efficiently accomplish our goal with attention-getting style and encourage and promote clinical dialogue between our patients and staff."
A 42" plasma TV presents rolling images that give information on local weather, news, office hours, treatments, and dental products and services. The information is delivered over the Internet from a StrandVision server. The Group Health Cooperative marketing staff can easily update and manage the content through an easy to use Web interface and the changes are immediately sent to the waiting room display.
"Dental offices and health providers are natural markets for StrandVision," commented Mike Strand, StrandVision founder and CEO. "StrandVision Digital Signage helps health providers respond to their patients' needs for information and education in a timely and cost effective manner. We can also help health providers, such as Group Health Dental, develop an additional revenue source through merchandising agreements with local and national partners."
About StrandVision
StrandVision LLC, previously Online-Kiosks (http://www.online-kiosks.net), uses a Web services model to deliver low-cost, high-availability hosted digital signage services to businesses. It is ideal for medical and dental offices (patient education), banks (video merchandising), industrial distributors (vendor-sponsored advertising), employee break rooms (events and benefits) and other business applications. StrandVision eliminates the need for complex and expensive onsite hardware since it hosts the digital signage service on its servers and delivers content directly over the Internet via standard Web browser technology to televisions and computer displays in subscribers' offices and businesses. StrandVision's easy-to-setup and easy-to-update Web-based service enables administrators to maintain and quickly distribute text messages and graphics, including advertisements and video content. StrandVision enhances each company's customized content with national and local weather and news, stocks and other information of interest. Additional information about StrandVision and a free trial subscription are available at www.strandvision.com, or by calling or emailing sales at StrandVision.com.
###
All trademarks are the property of their respective owners.
EDITORS: For further information:
Mike Strand
StrandVision Digital Signage
6595 South Shore Drive
Altoona, WI 54720-2386
715-235-SIGN (7446)
mjstrandweb at StrandVision.com
More information: http://www.prweb.com/releases/2006/1/prweb328320.htm