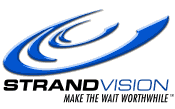 FOR IMMEDIATE RELEASE
LAS VEGAS - May 9, 2006 - StrandVision LLC (www.strandvision.com) of Eau Claire, Wisconsin, a provider of Internet-based digital signage services, has introduced a new way for hardware and industrial distributors to promote products, increase point-of-purchase coop advertising revenues and freshen their showrooms/counter operations. Displaying in Booth #30240 at the National Hardware Show, here, in Las Vegas, StrandVision is debuting its flexible digital signage system that uses standard televisions to allow distributors to show products, promotions, weather and other news of interest to their customers.
Distributors can make money by selling advertising space on the signage which displays right in the showroom. With a StrandVision Digital Signage system, distributors can feature new products from selected vendors, highlight specials or high margin products, present training opportunities, and show the latest national and local news and weather. StrandVision digital signs decrease customers' perceived wait time while providing messages to a captive audience, giving the potential for increased sales and profits.
"We piloted the StrandVision systems and saw some immediate results," commented Stacey Curtis, marketing director, Midwest regional offices for Nortrax, a heavy-duty construction and forestry equipment dealer and a subsidiary of the John Deere Corporation. "We've sold some high-ticket items that we directly attribute to promotions over the digital signage system. The pilot was successful so we'll be rolling it out to all of our other locations over the coming months."
Typical Applications:
Sponsored vendor advertising
Product promotions
Specials
Business hours
Return policies
Delivery truck schedules and routes
Training opportunities
Employee recognition, birthdays, awards, etc.
Customer profiles and quotes

Health & safety information
Company news, sales results and stock ticker
Safety milestones (days between incidents updated automatically by the StrandVision system)
Upcoming events and holidays
Production performance
Activities and team schedules and scores
Other facility locations
"StrandVision Digital Signage is an effective way to reach customers," said Mike Strand, StrandVision founder and CEO. "Delivered through a universal medium, television, it is unobtrusive and is an easy way to distribute product promotions and news. It provides an advertising medium that can become an additional revenue stream from vendors. With StrandVision's Web approach to digital signs, content can be customized for all stores or for each one and can be updated on the fly to react to changes, such as weather, to promote special items, feature slow moving inventory or recognize employees."
Affordable - Easy-to-manage
StrandVision takes a radical new approach to digital signage. It hosts digital signs on its servers and delivers signage content over the Internet directly to subscribers' city desks, show rooms and counters. StrandVision uses a familiar television format delivered through standard, off-the-shelf computer monitors or televisions that are inexpensive and timely to develop, deploy and maintain. Distributors completely control their own content using a familiar Web interface with fill-in-the-form data entry to manage the digital slides, so any authorized user, even non-technical staff, can provide the content.
For less than the cost of one local newspaper ad, distributors can have a full year of advertising right where it's needed - at the sales counter. StrandVision digital signs can be set up to play text slides with the option of full motion video with or without audio. Content can be customized for one or several locations and can show different messages at different times of the day. StrandVision also provides local news and weather feeds, and can accommodate customized corporate information, such as a company stock ticker and news service.
StrandVision Digital Signage is available immediately from StrandVision and through a national network of resellers and installers. Pricing begins at $54.95/month per location with additional locations priced at $29.95/month (annual subscription rate). Installations require a high-speed Internet connection and a personal computer with Web access to develop and/or receive content. A free trial is available at: http://www.strandvision.com/adduser.html.
About StrandVision
StrandVision LLC, previously Online-Kiosks, delivers low-cost, high-availability hosted digital signage services to businesses. StrandVision's patent-pending approach eliminates the need for complex and expensive onsite hardware since it uses standard Unix/Linux or Windows PC equipment. It delivers content directly over the Internet to televisions and computer displays in subscribers' offices and businesses. StrandVision's easy-to-setup and easy-to-update Web-based service enables administrators and authorized users to maintain and quickly distribute text messages and graphics, including advertisements and video content, national and local weather and news, and other information of interest. It is ideal for medical and dental offices (patient education), banks (video merchandising), industrial distributors (vendor-sponsored advertising), employee break rooms (events and benefits) and other business applications. StrandVision Digital Signage services are available directly from StrandVision and through registered affiliates and resellers (www.strandvision.com/digital_signage_installers.html). Additional information about StrandVision and a free trial subscription are available at www.strandvision.com, by calling or emailing sales at StrandVision.com.
###
All trademarks are the property of their respective owners.
EDITORS: For further information:
Mike Strand
StrandVision Digital Signage
6595 South Shore Drive
Altoona, WI 54720-2386
715-235-SIGN (7446)
mjstrandweb at StrandVision.com
More information: http://www.prweb.com/releases/2006/05/prweb382824.htm