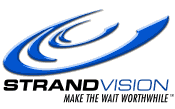 FOR IMMEDIATE RELEASE
MENOMONIE, Wis. - Nov. 18, 2014 - StrandVision Digital Signage today introduced its second set of pre-produced animated corporate communication templates - this time on the topic of Health/Wellness. Ideal for StrandVision Digital Signage employee communications networks, the set of 50 attractive digital signage content templates is a new page type which can be easily added to StrandVision customer digital media player page mixes. The new Communications Library is also appropriate for public service announcements over customer-directed digital signage networks.
Health/Wellness Subjects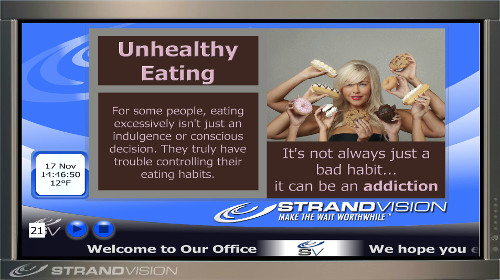 The Health/Wellness StrandVision Communications Campaign Library includes 50 StrandVision Digital Signage animated content pages on exercise, hygiene, healthy eating, mental wellness, prevention and other topics. Each page consists of an attractive graphic and a short, animated text message on the topic. The pages are set to random animation sequences and are added into the customer's normal digital signage page mix with a single click to http://www.svds.co/?installimage&e=1&i=LF4FX87DK5C5X43MFA8QCKT5Y2.
Administrators simply select the Health/Wellness category on their StrandVision Content Management System (CMS) portal. They can easily define frequency and change defaults settings, such as scroll speed, to meet the needs of their particular display environments. The StrandVision system randomly selects from among the 50 health/wellness subjects and automatically mixes the selections with one of several animation sequences and inserts a different subject/animation combination on each pass of the page loop.
The Health/Wellness Library can also be combined with the previously announced StrandVision Environmental Communications Library, as well as other Communications Library subject areas as they are introduced.
The variety of subjects, combined with the randomly assigned animations, creates a dynamic presentation that keeps people focused on the digital media player screens long after the campaign page plays.
"The Health/Wellness Library offers informative, interesting content that adds attractive, easy-to-implement pages to our customers' digital signage networks while promoting an important theme that offers helpful advice that everyone can use," said StrandVision founder and CEO Mike Strand. "We've already had a tremendous response to the first environment and sustainability theme and look forward to continuing to introduce the rest of our subject categories over the coming months. The eye-catching design and animation adds to our subscribers' presentations and can become an integral part of their overall organizational health/wellness communications campaign with virtually no effort."
StrandVision Animated Template Library Program
The StrandVision Animated Template Communications Library covers 15 themes from diversity and ethics, to safety and morale, quality and time management, spanning hundreds of specific subjects. Designed for both employee communication and general public audiences, the Communications Campaign Library motivates, educates and informs digital signage viewers while demonstrating the customer organization's commitment to worthwhile personal and corporate initiatives.
The animated templates can be displayed in full-screen or in-frame formats. Administrators can control text speed and other functions, such as scheduling and expiration.
Health/Wellness Communications Campaign Library template pages are available immediately to all StrandVision Digital Signage subscribers, as well as StrandVision Free Digital Signage Test Drive participants. See sample templates at: http://www.strandvision.com/corporate_social_responsibility_samples.html or visit our introductory demonstration YouTube video at: http://www.strandvision.com/video_wellness_communications_campaign_library.html, call 715-235-SIGN (7446) or email sales at StrandVision.com.
About StrandVision
StrandVision LLC, based in Menomonie, Wis., delivers low-cost, cloud-based digital signage to subscribers' digital media player displays, as well as computers, websites and mobile devices. StrandVision's patented approach distributes customer-created text, graphics, videos and RSS/social media feeds along with pre-packaged, user-selectable weather and news, trivia, music, as well as library of social responsibility topics. StrandVision Digital Signage is ideal for many business marketing applications for visitor and employee communication for banks and retailers; schools and universities; business and industry; as well as nonprofit and religious organizations.
StrandVision also offers digital signage support hardware including PC-2-TV.net, a fully digital, high-definition (HD) video extender for long distance multi-screen distribution, Linux digital media players to ease and optimize electronic signage network installation and administration, and several large-format displays including freestanding pedestal displays. StrandVision Digital Signage services, installation and equipment are available directly from StrandVision and through registered affiliates and system integrators. Additional information about StrandVision Digital Signage is available at StrandVision.com, 715-235-SIGN (7446) or by emailing sales at StrandVision.com.
###
Names may be trademarks of their respective owners.
EDITORS: For further information:
Mike Strand
StrandVision Digital Signage
6595 South Shore Drive
Altoona, WI 54720-2386
715-235-SIGN (7446)
mjstrandweb at StrandVision.com