FOR IMMEDIATE RELEASE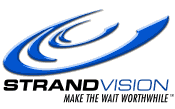 EAU CLAIRE, Wis. - Dec. 19, 2005 - Hope Gospel Mission (http://www.hopegospelmission.org) is using a StrandVision LLC (www.strandvision.com), hosted digital sign in its Hope Gospel Mission Bargain Center to highlight its in-store specials and other services that they offer. The Mission also runs men's and women's shelters, a life skills program, an education center, a work training/placement program and a used auto sales operation.
"The new digital sign plays an important role in our community outreach," explained Craig Pedersen, Hope Gospel Mission business manager. "The Bargain Center is the largest thrift store in the upper mid-west with 33,000 square feet of display space. Yet, many who visit the Center don't realize that its purpose is to support our residents and our life skills training programs. The digital sign is an in-store advertising medium that lets people know why we're here and encourages them to support our mission through prayer, donations of time and money, and by hiring Mission residents."
The digital sign presents a series of 30-50 text slides and images that include the Mission's objectives and details its services. It also features job postings, as well as special events, such as the recent opening of the Ruth House Women's Shelter. The StrandVision digital sign replaces a repeating PowerPoint loop that required frequent maintenance and was difficult to update. The StrandVision digital sign is updated and maintained through a Web interface and delivers the digital images over the Internet. Future plans call for adding audio and full video capabilities in order to "air" the Mission's public service announcements.
Readers can view the digital sign that Hope Gospel Mission is showing in its Bargain Center at: http://www.strandvision.com/hgm.html.
"This is an exciting new use for StrandVision technology," said Mike Strand, StrandVision founder and CEO. "Hope Gospel Mission has let us realize that our system can easily be used to help churches, social service organizations and even government agencies use digital signs to publicize their missions, community services and news. With its quick updating and multi-location capabilities it also offers an effective way to instantly announce time-sensitive information."
About StrandVision
StrandVision LLC is the latest venture of Mike Strand, founder and CEO, who previously founded StrandWare Inc., one of the leading providers of bar coding and data capture software. Strand is dedicated to finding innovative ways for businesses to solve everyday challenges. StrandVision fulfills this mission by providing low-cost, high-availability hosted digital signage services that can be implemented quickly and easily by a wide range of companies. Additional information about StrandVision is available at www.strandvision.com, or mjstrandweb at StrandVision.com.
###
All trademarks are the property of their respective owners.
EDITORS: For further information:
More information: http://www.prweb.com/releases/2005/12/prweb323508.htm