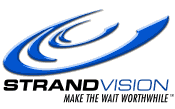 FOR IMMEDIATE RELEASE
EAU CLAIRE, Wis. - June 19, 2006 - StrandVision LLC (www.strandvision.com), a provider of Internet-based digital signage services, today announced administrator upgrades to its streaming digital signage service that enhance initial installation, updates and system administration of videos and other features. The enhancements also include a screen saver capability that allows computers that are not being used to become digital signs until they are needed again.
Installer automatically configures playback systems
The new installer automatically sets the playback machine to launch StrandVision services and log onto the digital signage Internet stream upon boot-up - there is no operator action required. The installer also automates all StrandVision player updates, downloads and installations. Using features in the new installer, StrandVision digital signs now automatically perform self-maintenance and resetting to manage memory usage in order to keep the digital signs uninterrupted and operating smoothly.
"Many digital signage systems are controlled by some outside vendor - customers have to submit requests for signage changes and, in many cases, have to pay for each update," commented Mike Strand, StrandVision founder and CEO. "At StrandVision, our philosophy is fundamentally different. We give our customers complete control with unlimited and instant updates using our easy-to-setup, easy-to-administer digital signage system that starts at only $55 a month."
Every computer can be a digital sign
Recognizing that many companies, such as banks, travel agencies, insurance firms, even retail stores, have public areas with customer service representative computers that are on but not in continuous use, StrandVision has introduced a screen saver capability. It enables idle computers that would normally be in sleep mode to automatically log on to the StrandVision Digital Signage stream to display the same informational and promotional messages playing on their main signage system. This innovative use takes advantage of existing assets, informs even more waiting customers, and can potentially increase sales and profitability.
"By following our customer satisfaction business model, we created this screen saver feature based on comments from our users," continued Strand. "It made a lot of sense to use underutilized customer service representatives' computer displays for promotions; and with our approach to digital signs, it's easy to extend the service to virtually any system throughout the office or the world."
About StrandVision
StrandVision LLC, previously Online-Kiosks, delivers low-cost, high-availability hosted digital signage services to businesses. StrandVision's patent-pending approach eliminates the need for complex and expensive onsite hardware since it uses standard Unix/Linux or Windows PC equipment. It delivers content directly over the Internet to televisions and computer displays in subscribers' offices and businesses. StrandVision's easy-to-setup and easy-to-update Web-based service enables administrators and authorized users to maintain and quickly distribute text messages and graphics, including advertisements and video content, national and local weather and news, and other information of interest. It is ideal for medical and dental offices (patient education), banks (video merchandising), industrial distributors (vendor-sponsored advertising), employee break rooms (events and benefits) and other business applications. StrandVision Digital Signage services are available directly from StrandVision and through registered affiliates and system integrators (www.strandvision.com/digital_signage_installers.html). Additional information about StrandVision and a free trial subscription are available at www.strandvision.com, or sales at StrandVision.com.
###
All trademarks are the property of their respective owners.
EDITORS: For further information:
Mike Strand
StrandVision Digital Signage
6595 South Shore Drive
Altoona, WI 54720-2386
715-235-SIGN (7446)
mjstrandweb at StrandVision.com
More information: http://www.prweb.com/releases/2006/6/prweb400188.htm