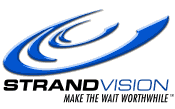 FOR IMMEDIATE RELEASE
MENOMONIE, Wis. - May 1, 2013 - StrandVision Digital Signage today announced that it has extended its free digital signage weather forecast service to its electronic signage customers around the world. This complements its weather service covering the United States that has been available as a free digital signage content option to customers since the company's founding.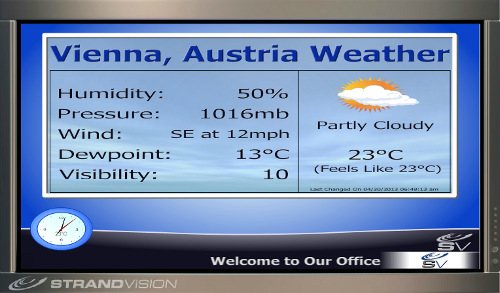 The StrandVision electronic sign network automatically formats and presents the weather information based on the geo-location of the physical screen as part of the normal electronic signage content page mix. The local weather condition and forecast information is updated hourly and automatically sent to all digital media players configured to use it. Customers with multiple licenses can present localized weather forecasts simply by activating the weather service option for their entire network or any user specified group.
The new weather service option, provided by World Weather Online (http://www.worldweatheronline.com), uses global positioning (GPS) information entered by the customer to deliver accurate, local, up-to-date weather reports. StrandVision automatically detects and enters this information into the customer's account during the free digital signage software registration. Account administrators have the option of refining the GPS information in order to provide more accurate localized weather reports.
"We've provided the licensed free digital signage weather content for our United States customers since we started almost 10 years ago," commented Mike Strand, StrandVision founder and CEO. "However, as our customer base continues to expand internationally we decided to make the investment to provide localized electronic sign weather content around the globe. Now, we provide free digital signage weather content to all of our customers anywhere in the world, from Aruba to Zürich and everywhere in between, with a simple selection on our online electronic signage portal."
About StrandVision
StrandVision LLC, based in Menomonie, Wis., delivers low-cost, Web-based digital signage software through a patented Software as a Service (SaaS) approach that delivers content to subscribers' LCD flat panel screens, as well as computer screens, websites and mobile devices. StrandVision's service distributes text and graphics pages, video content and national and local weather and news. It is ideal for many large and small business marketing applications, including medical and dental offices (patient education); banks, retailers and industrial distributors (video merchandising); education (student communication, staff and visitor information); employee break rooms (employee communication of events and benefits); nonprofit and religious organizations (member and supporter communication).
StrandVision also offers
PC-2-TV.net
, a fully digital, high-definition (HD)
video extender
to connect a computer to a television over long distances for use with digital signage and many other applications. StrandVision Digital Signage services and PC-2-TV.net are available directly from StrandVision and through registered affiliates and
system integrators
. Additional information about StrandVision
Digital Signage
is available at
StrandVision.com
, by calling or emailing
sales at StrandVision.com
.
###
All trademarks are the property of their respective owners.
EDITORS: For further information:
Mike Strand
StrandVision Digital Signage
6595 South Shore Drive
Altoona, WI 54720-2386
715-235-SIGN (7446)
mjstrandweb at StrandVision.com