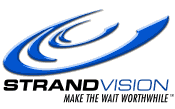 FOR IMMEDIATE RELEASE
CHIPPEWA FALLS, Wis. - Oct. 30, 2007 - Kell Container - Great Northern Corporation (GNC) has added a digital signage system from StrandVision LLC of Eau Claire to its employee communications mix.
The new digital signage consists of a 42" flat screen television display mounted in the company's employee lunch room. The sign, which runs 24X7, enables Kell Container - GNC to deliver consistent information to employees on all three shifts.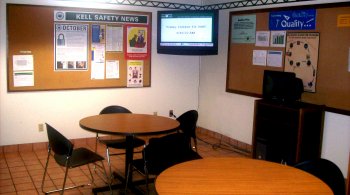 The slide mix includes a number of announcements of company news and events, including United Way campaign results; employee benefits information, such as open enrollment announcements; and an Occupational Safety and Health Administration (OSHA) "Safety Count" slide that is automatically updated by StrandVision's "count-up" capability. The digital sign also features local and national news, sports and weather.
The StrandVision digital sign supplements other Kell Container - GNC employee communications, such as its Kell Daily employee newsletter. The digital sign is updated daily, along with the newsletter, and the updates are posted to the digital sign over the Internet through StrandVision's administrative console, which provides an easy, Web-like user interface. Updates are immediately sent to the display in the employee lunch room.
"We were making a real effort to keep employees informed," explained Mark Orendorff, plant manager. "But they kept telling us that they were missing announcements. So, our main objective in adding the digital sign is to improve overall employee communications. Employees on all three shifts now get our announcements in multiple ways."
xplained Mike Strand, StrandVision founder and CEO, "StrandVision Digital Signage easily merges with companies' other communications. We can use the same text and graphics so our customers don't have to spend a lot of time or money preparing custom information for their digital signs. Yet, we offer several display options, as well as automated feeds such as local news and weather, to keep the presentation dynamic and interesting. Best of all, it's easily scalable to grow with any-sized organization."
About StrandVision
StrandVision LLC of Eau Claire, Wis., previously Online-Kiosks, delivers low-cost, high-availability hosted digital signage services through a patent-pending, Internet-based approach that eliminates the need for complex and expensive onsite hardware. It delivers content directly to subscribers' televisions, including LCD and plasma displays, and computer screens. StrandVision's Web-based service makes it easy to set up, maintain and quickly distribute text messages and graphics, including advertisements, video content, and national and local weather and news. It is ideal for medical and dental offices (patient education), banks, retailers and industrial distributors (video merchandising), employee break rooms (events and benefits), non-profit and religious organizations (client and supporter communications), and other applications. StrandVision Digital Signage services are available directly from StrandVision and through registered affiliates and system integrators (www.strandvision.com/digital_signage_installers.html). Additional information about StrandVision and a free trial subscription are available at www.strandvision.com, by calling or emailing sales at StrandVision.com.
###
All trademarks are the property of their respective owners.
High resolution photo available.
EDITORS: For further information:
Mike Strand
StrandVision Digital Signage
6595 South Shore Drive
Altoona, WI 54720-2386
715-235-SIGN (7446)
mjstrandweb at StrandVision.com
More information: http://www.prweb.com/releases/2007/4/