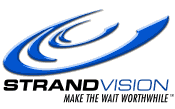 FOR IMMEDIATE RELEASE
BOWLING GREEN, Ky. - July 16, 2008 - Seeking an innovative way to communicate with customers at its new Morgantown store, King Drug and Home Care turned to StrandVision LLC of Eau Claire, Wis. for its digital signage and video display system. Located in the pharmacy waiting area on an island, the 26" flat screen display shows product information and specials, local and national news and weather, as well as King Drug informational videos.
The system meets King Drug's requirement for an innovative, non-intrusive way to communicate with customers that goes beyond traditional in-store signage and advertising. Although they had considered email newsletters and other television-based systems, they found that the StrandVision digital sign was the most cost effective and efficient way to go.
Remote control
Using StrandVision's innovative Web-based approach, marketing and technical personnel in Bowling Green, a half hour drive from Morgantown, update slides and information over the Internet. The changes are instantly sent to the display in the Morgantown store via the Internet. King Drug video clips are automatically downloaded and stored on the StrandVision personal computer player in Morgantown and mixed into the digital signage slide rotation.
Commented Richard Mabrey, King Drug and Home Care systems support specialist, "StrandVision provides an inexpensive way to distribute timely, professional advertising and information right in the store. It's a great way to let our customers know about other King Drug and Pro-Care Home Health products and services."
King Drug is positioned to expand the digital signage system to its other stores by taking advantage of StrandVision's Web-based approach. Plans include adding digital signs at other store locations and even pharmacy drive-ups to show a combination of corporate-wide and location-specific digital signage slides and videos. All of the installations will be centrally managed from the Bowling Green headquarters.
"King Drug and Home Care is taking advantage of many of StrandVision's capabilities," said Mike Strand, StrandVision founder and CEO. "They're remotely managing the system from headquarters which frees up store management, and they are able to gain increased attention with store video promotions in the digital signage mix. This keeps customers engaged and enables King Drug to really target its messaging."
About StrandVision
StrandVision LLC delivers low-cost, Web-based hosted digital signage services through a patent-pending approach that delivers content directly to subscribers' LCD and plasma displays, as well as computer screens and Web sites. StrandVision's service distributes text messages and graphics, including advertisements, video content, and national and local weather and news. It is ideal for medical and dental offices (patient education), banks, retailers and industrial distributors (video merchandising), employee break rooms (events and benefits), non-profit and religious organizations (member and supporter communications), and other applications.
StrandVision also offers PC-2-TV.net, a fully digital, high-definition (HD) personal computer-to-television adapter for use with digital signage and many other applications.
StrandVision Digital Signage services and PC-2-TV.net are available directly from StrandVision and through registered affiliates and system integrators (www.strandvision.com/digital_signage_installers.html). Additional information about StrandVision is available at www.strandvision.com, by calling or emailing emailing sales at StrandVision.com.
###
All trademarks are the property of their respective owners. High resolution photo available.
EDITORS: For further information:
Mike Strand
StrandVision Digital Signage
6595 South Shore Drive
Altoona, WI 54720-2386
715-235-SIGN (7446)
mjstrandweb at StrandVision.com