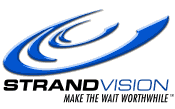 FOR IMMEDIATE RELEASE
LADYSMITH, Wis. – June 21, 2012 – StrandVision Digital Signage and Ladysmith Federal Savings and Loan Association today announced that a bank digital signage system from Menomonie-based StrandVision has been deployed in its lobby for customer communications.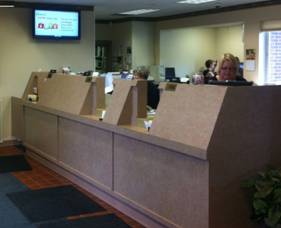 The 40" digital sign is an important part of Ladysmith Federal's communications mix. The StrandVision system supplements Ladysmith Federal's other communications, which include the Web, Facebook and brochures. It has replaced flyers that were routinely posted throughout the branch making the lobby area less cluttered and more attractive.
Digital signage content ranges from savings and loan financial information to community announcements, including Ladies Pink Night, a Ladysmith Federal/business community event and fundraiser for Women with Courage that recently took place at Colonial Nursery.
Customers routinely notice the digital signage announcements prompting them to ask bank tellers about an upcoming event or a product promotion.
Simplicity is Key
Sara Baker, Ladysmith Federal consumer loan officer, is the system administrator. She develops the slides using PowerPoint and sends them to the StrandVision server, which promptly updates the display in the lobby. The process is quick and easy. "I was looking for a product that is simple and easy to use because I don't have a lot of time to spend on bank marketing," said Baker. "StrandVision Digital Signage works. I can quickly make my content updates and then move onto my next task for the day."
"Ladysmith Federal is making good use of their StrandVision Digital Signage," said Mike Strand StrandVision founder and CEO. "They conducted an in-lobby promotion for St. Patrick's Day where customers counted the shamrocks in the digital signage content to enter a drawing. That was a creative way to engage bank customers while promoting their normal business marketing announcements."
About StrandVision
StrandVision LLC, based in Menomonie, Wisconsin, delivers low-cost, Web-based digital signage software through a patented Software as a Service (SaaS) approach that delivers content to subscribers' LCD flat panel screens, as well as computer screens and websites. StrandVision's service distributes text and graphics pages, video content and national and local weather and news. It is ideal for many large and small business marketing applications, including medical and dental offices (patient education); banks, retailers and industrial distributors (video merchandising); education (student communication, staff and visitor information); employee break rooms (employee communication of events and benefits); nonprofit and religious organizations (member and supporter communication).
StrandVision also offers PC-2-TV.net, a fully digital, high-definition (HD) video extender to connect a computer to a television over long distances for use with digital signage and many other applications. StrandVision Digital Signage services and PC-2-TV.net are available directly from StrandVision and through registered affiliates and system integrators. Additional information about StrandVision Digital Signage is available at StrandVision.com, by calling or emailing sales at StrandVision.com.
###
All trademarks are the property of their respective owners.
EDITORS: For further information:
Mike Strand
StrandVision Digital Signage
6595 South Shore Drive
Altoona, WI 54720-2386
715-235-SIGN (7446)
mjstrandweb at StrandVision.com