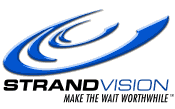 FOR IMMEDIATE RELEASE
EAU CLAIRE, Wis. - July 26, 2006 - StrandVision LLC (www.strandvision.com), a provider of Internet-based digital signage services, today announced an optional local video capability for its digital signage systems. The option enables administrators to add local streaming content, including feeds from cable, satellite and DVD/VCR, as well as video and Web cameras, to enhance their digital signage networks.
The local content can be shown as a window in the display screen or as a full-screen presentation. When combined with other StrandVision features, such as scheduling and location-specific programming, the local streaming video option provides a flexible solution that integrates ad hoc video feeds with recurring digital signage content. StrandVision's local video option can even be set up to suspend regular digital signage messages during specific times of the day to allow viewing of scheduled video programs.
"Local video is another enhancement that gives greater flexibility to StrandVision's digital signage solutions," explained Mike Strand, StrandVision founder and CEO. "It will be a valuable addition, especially for schools, businesses and churches - any organization that requires the flexibility to distribute externally sourced content over its existing digital signage network to their patrons."
The local streaming video option for StrandVision Digital Signage networks, which is priced at $29.95/mo. per delivered location, requires an MSI Vox (or other Microsoft Windows compatible) video capture device (sold separately). The service is available immediately to StrandVision signage subscribers.
About StrandVision
StrandVision LLC, previously Online-Kiosks, delivers low-cost, high-availability hosted digital signage services. StrandVision's patent-pending approach eliminates the need for complex and expensive onsite hardware since it uses standard Unix/Linux or Windows PC equipment. It delivers content directly over the Internet to televisions and computer displays in subscribers' offices and businesses. StrandVision's easy-to-setup and easy-to-update Web-based service enables administrators and authorized users to maintain and quickly distribute text messages and graphics, including advertisements and video content, national and local weather and news, and other information of interest. It is ideal for medical and dental offices (patient education), banks (video merchandising), industrial distributors (vendor-sponsored advertising), employee break rooms (events and benefits) and other business applications. StrandVision Digital Signage services are available directly from StrandVision and through registered affiliates and system integrators (www.strandvision.com/digital_signage_installers.html). Additional information about StrandVision and a free trial subscription are available at www.strandvision.com, by calling or emailing sales at StrandVision.com.
###
All trademarks are the property of their respective owners.
EDITORS: For further information:
Mike Strand
StrandVision Digital Signage
6595 South Shore Drive
Altoona, WI 54720-2386
715-235-SIGN (7446)
mjstrandweb at StrandVision.com
More information: http://www.prweb.com/releases/2006/7/prweb416593.htm