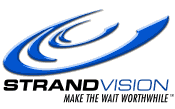 FOR IMMEDIATE RELEASE
March 13, 2012 - StrandVision Digital Signage today announced support for the OS X operating system that enables Mac computers to be used as StrandVision Digital Signage players. This new application for the Mac is being added to StrandVision's support of Microsoft Windows and Linux digital signage players.
Commented Mike Strand StrandVision founder and CEO, "This new electronic sign platform for Apple gives our StrandVision Digital Signage software subscribers another option to work with our digital signage network. Our cloud-based, SaaS service offers tremendous flexibility as well as a variety of digital signage display options. Now, virtually anyone with an Internet connection can take advantage of StrandVision's free digital signage software or one of our more robust subscription plans."
StrandVision offers Internet-based digital signage services that include text, graphics, video and audio, including background music and advertisements. Its flexible setup allows deployment of a single digital sign or a network of electronic sign displays in multiple, even international, locations. An easy-to-use administrator's portal in the cloud provides a single location for managing all of a subscriber's digital signage. In addition to designing the pages, the administrator portal can also be used to schedule pages and control where the content is shown within the digital signage networks.
All StrandVision Digital Signage subscriptions include free consulting services for digital signage installation, design and deployment. A free digital signage subscription trial is offered at: http://www.strandvision.com/free_digital_signage_software_testdrive.html.
About StrandVision
StrandVision LLC, based in Menomonie, Wisconsin, delivers low-cost, Web-based digital signage software through a patented Software as a Service (SaaS) approach that delivers content to subscribers' LCD flat panel screens, as well as computer screens and websites. StrandVision's service distributes text and graphics pages, video content and national and local weather and news. It is ideal for many large and small business marketing applications, including medical and dental offices (patient education); banks, retailers and industrial distributors (video merchandising); education (student communication, staff and visitor information); employee break rooms (employee communication of events and benefits); non-profit and religious organizations (member and supporter communication).
StrandVision also offers PC-2-TV.net, a fully digital, high-definition (HD) video extender to connect a computer to a television over long distances for use with digital signage and many other applications. StrandVision Digital Signage services and PC-2-TV.net are available directly from StrandVision and through registered affiliates and system integrators. Additional information about StrandVision Digital Signage is available at StrandVision.com, by calling or emailing sales at StrandVision.com.
###
All trademarks are the property of their respective owners.
EDITORS: For further information:
Mike Strand
StrandVision Digital Signage
6595 South Shore Drive
Altoona, WI 54720-2386
715-235-SIGN (7446)
mjstrandweb at StrandVision.com