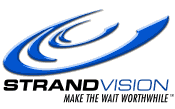 FOR IMMEDIATE RELEASE
LAS VEGAS - June 18, 2008 - StrandVision LLC is debuting the latest version of its hosted digital signage services here at InfoComm (Booth # N7058 in the Digital Signage area). The new version (2.0) incorporates all previous service updates and introduces several new enhancements, which are automatically available to all StrandVision customers based on their subscriber level.
StrandVision is also debuting PC-2-TV.net a fully digital, high-definition (HD) personal computer-to-television adapter for use with digital signage installations. The adapters are hardware devices that digitally connect all common peripherals via a single CAT5 or CAT6 network cable, either directly or through standard networking appliances, such as gateways, routers and fiber optic networks. (http://www.strandvision.com/pc-2-tv_introduction.html).
"This new version is the culmination of more than four years of experience in delivering non-stop digital signage services to an ever-growing number of customers," said Mike Strand, StrandVision founder and CEO. "Many of the enhancements are based on customer requests, many take advantage of advances in technology, and some are included to position us for additional capacity and growth opportunities."
The new StrandVision enhancements address five categories:
Administration - Enables more flexibility in account management for companies with multiple displays with an easier page setup and greater control over playback.
Playback - Provides greater levels of customization for news feeds and enhanced ability to define schedules, playback groups and subgroups.
Security - All user account information and digital signage content is encrypted, and there are now an unlimited number of password protected logins and email settings; with the ability to limit security rights for multiple levels of subgroups.
Technical Support - Live reporting of digital signage system with player status of every screen and group status via email and through a color coded dashboard. Emergency override capabilities for special announcements can be activated in seconds after log-in.
Installers/Affiliates - Enhanced lead reporting and payment management/tracking.
The enhancements being announced at InfoComm follow recent upgrades from StrandVision that include individual page scheduling with automatic insertion and removal of pages (for events, notifications, etc.); page countdown/countup capabilities (for safety tracking, event announcements/reporting, etc.); advanced split screen and video capabilities; automatic conversion of Microsoft PowerPoint slides into StrandVision page images; advanced database capabilities that combine both text and graphics into a single record (for real estate listings, automobile sales, etc.); and the ability for customers to play StrandVision Digital Signage on their Web sites.
StrandVision is showing all of its capabilities at its booth at InfoComm. Installers and end users are encouraged to stop by booth N7058 for a demonstration.
About StrandVision
StrandVision LLC delivers low-cost, Web-based hosted digital signage services through a patent-pending approach that delivers content directly to subscribers' LCD and plasma displays, as well as computer screens and Web sites. StrandVision's service distributes text messages and graphics, including advertisements, video content, and national and local weather and news. It is ideal for medical and dental offices (patient education), banks, retailers and industrial distributors (video merchandising), employee break rooms (events and benefits), non-profit and religious organizations (member and supporter communications), and other applications.
StrandVision also offers PC-2-TV.net, a fully-digital, high-definition (HD) personal computer-to-television adapter for use with digital signage and many other applications.
StrandVision Digital Signage services and PC-2-TV.net are available directly from StrandVision and through registered affiliates and system integrators (http://www.strandvision.com/?digital_signage_installers). Additional information about StrandVision is available at http://www.strandvision.com, by calling or emailing sales at StrandVision.com.
###
All trademarks are the property of their respective owners.
EDITORS: For further information:
Mike Strand
StrandVision Digital Signage
6595 South Shore Drive
Altoona, WI 54720-2386
715-235-SIGN (7446)
mjstrandweb at StrandVision.com
More information: http://www.prweb.com/releases/2007/4/